Compared to the freezing desert it is now, Mars was a totally different world billions of years ago. It was covered in water. The exact time when it vanished into the air or underground is unknown, but new study reveals that it may have stayed wet for longer than previously thought. The Chinese Zhurong Mars rover has now discovered fresh evidence to support this theory. Utopia Planitia, Mars' biggest impact basin (and the largest in the Solar System), is being explored by the six-wheeled robot. Before Zhurong arrived, it had been visited by NASA's Viking 2 in the 1970s. According to scientists writing in Science Advances, the newer robotic explorer has discovered rocks that appear to have developed in the presence of water.
Although this is not a new phenomenon on Mars, the timing of their creation is undoubtedly intriguing. The area is part of Mars' Amazonian epoch, a longer and more recent period of geological history. The terrain might have been resurfaced as recently as 700 million years ago, according on statistical counts of impact on the surface. It's impossible to estimate the age of the rocks without direct investigation, so they might be much older, but the discoveries still show that Mars had liquid water and ice on its surface for a long time.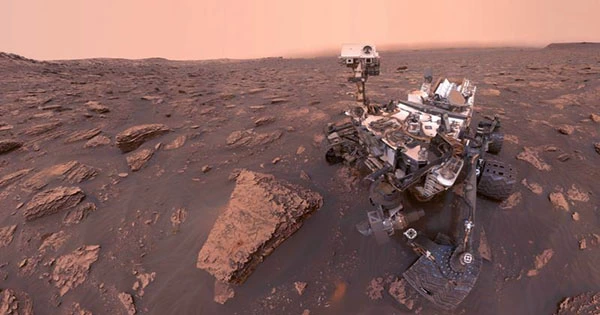 The scientists also discovered that the area Zhurong is studying is made up of a hard layer of dirt or duricrust that differs from what has been seen in other places, such as the one that caused the "death" of NASA's InSight mission's Mole experiment. The researchers assume that the duricrust — a hard layer on or near the soil surface – developed as a result of brackish groundwater slowly evaporating and solidifying the duricrust. The discovery of liquid water underground in the recent geological past has ramifications for our knowledge of Mars, the potential of life there in the past or perhaps now, and any future exploration – robotic or human.
"The discovery of such habitats in situ suggests that Mars has a more active Amazonian surface hydrosphere than previously thought." The authors noted in their report that "the Zhurong landing site (including the northern lowlands) may contain a significant amount of accessible water in the form of hydrated minerals and perhaps ground ice for in situ resource exploitation for future human Mars exploration." Although Mars continues to keep the secrets of its water-rich past close to its breast, we are gradually improving our ability to uncover them.