According to NASA, the National Oceanic, and Atmospheric Administration's (NOAA) 2021 Annual Global Climate Update, the last nine years have now ranked in the top ten hottest years since records began, with 2021 tied for sixth place with 2018. According to the comprehensive research, the global land and ocean temperature in 2021 was 1.04°C (1.87°F) higher than the pre-industrial normal. The Paris Agreement aims to keep global warming below 2 degrees Celsius (3.6 degrees Fahrenheit), though the aspirational target is 1.5 degrees Celsius (2.7 degrees Fahrenheit).
Now, none of the world's largest greenhouse gas emitters reaching these standards. The European Climate Watch counterpart announced earlier this week that 2021 was the fifth hottest year on record, emphasizing how similar this year's average temperature was to both 2018 and 2015. Different datasets and analysis may put the years in a slightly different order, but both agree that the previous seven years have been the hottest on record.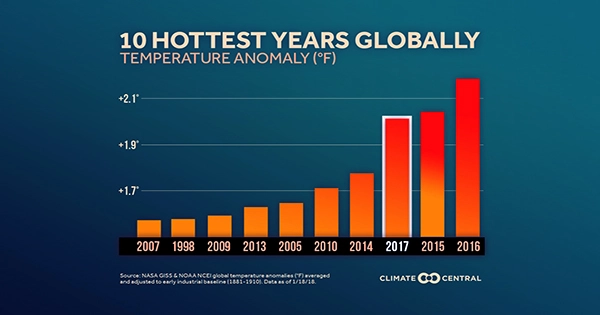 "The signals are so strong that the complexity of the many analyses doesn't matter," Gavin Schmidt, head of GISS, NASA's primary center for climate modeling and climate change research, said in a statement. "Because the trends are so big, they are all the same." The year 2021 was also the fourth warmest in the continental United States since 1895, according to the study. Several countries have registered their highest temperatures, with many of them being far higher than the global average. According to the research, roughly 60% of the United States is experiencing drought or abnormally dry conditions.
After 2020 (warmest) and 2016, the land surface temperature in the Northern Hemisphere was the third-highest on record (second warmest). It surpassed the 20th-century average by 1.09°C (1.96°F). The surface temperature in the Southern Hemisphere was the seventh-highest on record. At 50.5°C (123°F), Australia tied for the warmest day on record in the Southern Hemisphere. Northern Africa, southern Asia, and southern South America all had record temperatures, which matched the European study perfectly. The study also revealed that seas are storing a record amount of heat, surpassing the previous record set in 2020. This is in line with a study released this week that found the world's ocean heat records have been broken every year for the past six years.
This year, La Nia was also present, bringing lower temperatures to the Eastern Pacific. However, 2021 was the 45th year in a row where global temperatures were above the 20th-century average. "Science proves beyond a shadow of a doubt: climate change is our time's existential peril," NASA Administrator Bill Nelson stated.
"Eight of the top ten warmest years on our globe have occurred in the last decade, an undeniable statistic that highlights the necessity for decisive action to protect our country's – and humanity's – future. NASA's scientific studies on how the Earth is changing and warming will assist communities all across the world tackle climate change and mitigate its harmful effects."