Climbers scaling Yosemite last week discovered a new fissure near the Royal Arches cliff. According to park officials, a further study determined that cracking was actively occurring, so they closed areas of the park as a safety precaution.
The new crack has partially dislodged a massive pillar of granite near the Super Slide climbing route. The National Park Service is closing routes to avoid the risk of rockfall while their investigations continue. The closures went into effect on August 30 and will stay in effect until further notice.
"The following week, a climbing ranger and a geologist observed it firsthand, and they could hear it cracking like a frozen lake that wasn't consolidated," Jesse McGahey, a Supervisory Park Ranger at Yosemite National Park, told Climbing. "There were rocks rattling down the crack without touching it." The park geologist stated that they had never seen anything like this before. In his 15 years in Yosemite, he had never seen that."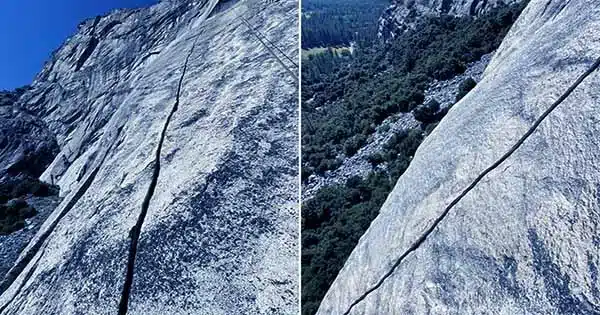 The crack is said to have shifted an inch over the course of seven days, but what that implies for the future is unclear. The massive pillar of granite that has park officials concerned may be about to fall, or it may take years, but parts of the park will remain closed until they have a better understanding of the possible hazard.
Rockfalls are typical in Yosemite Valley, which has sheer cliffs carved out by a glacier. It means the ground here is ever-changing, which adds to the beauty of the national park, but rockfalls are certainly something you want to avoid watching up close.
"Triggering mechanisms like water, ice, earthquakes, and vegetation growth are among the final forces that cause unstable rocks to fall," notes the National Park Service. "When water enters bedrock fractures, it can build up pressure behind unstable rocks." Water may also seep into rock fissures and freeze, causing the gaps to develop. This process is known as 'frost wedging' or 'freeze-thaw' and can gradually force loose boulders away from cliff slopes."
Frost wedging is also responsible for the unusual topography of Bryce Canyon National Park in Utah, which contains a record amount of hoodoos.