Rutherford's α – particle scattering experiment
Rutherford's conducted an experiment by bombarding a thin sheet of gold with α-particles and then studied the trajectory of these particles after their interaction with the gold foil. Rutherford and his associates studied the scattering of the α – particles by a thin gold foil in order to investigate the structure of the atom. An α-particle is a positively charged particle having a mass equal to that of helium atom and positive charge in magnitude equal to twice the charge of an electron. They are emitted by many radioactive elements. The scattering of α-particles provides useful information about the structure of the atom.
Experimental arrangement
A fine pencil of α−particles was obtained from a radioactive material like radium or radon by placing it in a lead box with a narrow opening as shown in Figure.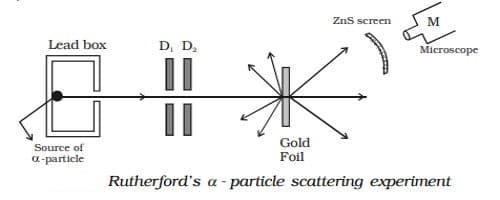 The α-particles are emitted from the source in all possible directions, but only a narrow beam emerges from the lead box. The remaining α-particles are absorbed in the lead box itself. After passing through the diaphragms D1 and D2, a narrow beam of α-particles incident on a thin gold foil, are scattered through different angles. The scattered α-particles strike a fluorescent screen coated with zinc sulphide. When the α-particles strike the screen, tiny flashes of light are produced. The observations can be made with the help of a low power microscope. It was expected that α-particles would be deflected by the sub-atomic particles in the gold atoms. Since the α-particles were much heavier than the protons, he did not expect to see large deflections. But, the α-particle scattering experiment gave totally unexpected results.
Observations and conclusions
(i) Most of the α particles either passed straight through the gold foil or were scattered by only small angles of the order of a few degrees. This observation led to the conclusion that an atom has a lot of empty space as shown in Figure.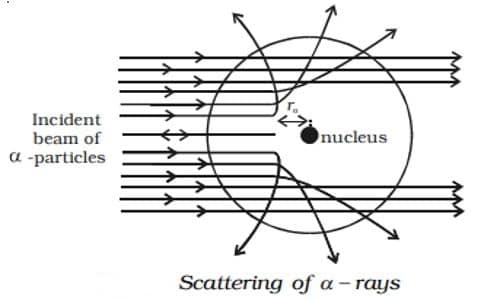 (ii) Some of the alpha particles were deflected back through large angles. This was not expected.
(iii) A few α particles were scattered in the backward direction, which led Rutherford to conclude that the whole of the positive charge was concentrated in a tiny space of about 10-14m. This region of the atom was named as the nucleus. Only a small number of particles approaches the nucleus of the atom and they were deflected at large angles.