The battery of the next-generation: Solid-state batteries
Solid-state batteries use both solid electrodes and electrolytes. These batteries are an emerging trend for next-generation traction batteries, as they offer high performance and safety at low cost. They serve to be a potential alternative to conventional lithium-ion batteries, which use liquid or polymer electrolytes. Additionally, they have low flammability, higher electrochemical stability, higher potential cathodes, and higher energy density as compared to liquid electrolyte batteries. These batteries are an emerging trend for next-generation traction batteries, as they offer high performance and safety at low cost.
Researchers at the University of Texas have developed a lithium-ion battery that doesn't use cobalt for its cathode. German researchers have succeeded in gaining a more precise understanding of processes in solid-state batteries which have lithium as the negative terminal and copper sulfide as the positive terminal. Big technology and car companies are all too aware of the limitations of lithium-ion batteries. While chips and operating systems are becoming more efficient to save power we're still only looking at a day or two of use on a smartphone before having to recharge. IBM Research is reporting that it has discovered new battery chemistry that is free from heavy metals like nickel and cobalt and could potentially out-perform lithium-ion.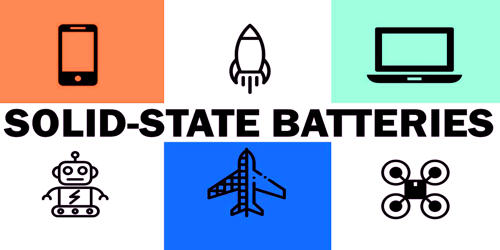 The performance of the battery depends on the electrolyte. At the moment, lithium-ion batteries are still the standard in electric cars and smartphones. Polyether and Lithium Phosphorus Oxy-nitride (LiPON)-based electrolytes are commonly used in solid-state batteries. However, the disadvantages and problems they pose are common knowledge. First and foremost is the relatively short-range, i.e. runtime. Added to this are the long charging times and even batteries that start to burn. Which are also difficult to extinguish – unless they are completely submerged in water. This is difficult to do where a burning car is concerned. The crux of these batteries is the battery fluid. Last but not least, this type of battery requires a cooling circuit, which takes up more space and also entails additional weight. These batteries find applications across multiple industries, such as automotive, energy storage, consumer electronics, industrial, and aerospace.
This is quite a different matter with what are known as solid-state batteries. The adoption of solid-state batteries depends on the value addition, as are increasingly used for various applications as compared to conventional liquid lithium-ion batteries. Here, the positive and negative pole are connected by a solid-state electrolyte, instead of a highly flammable, liquid form of electrolyte. In other words, they are 'dry'. Hence the battery does not need extra cooling and the energy density of the battery is also greater. Safety is the main driving factor for the development of solid-state batteries across various industries. This in turn means that more electricity can be stored with less weight and less volume.
Solid-state batteries are available in small sizes as compared to liquid lithium-ion batteries. In addition, the solid-state battery is significantly safer, because none of the electrolytes in the battery substance can overheat and catch fire. They do not produce hydrogen gas due to the absence of flammable materials, thereby strengthening the operational safety.