Triple-negative breast cancer (TNBC) is defined by what it is not rather than what it is. TNBC cells lack estrogen and progesterone receptors and do not overproduce the HER2 protein. This means that targeted medications targeting hormone or HER2 receptors are ineffective for this type of cancer, hence chemotherapy is usually required. But that doesn't mean that all TNBCs are the same.
According to a new study from Yale Cancer Center, inhibiting the CECR2 gene inhibits triple-negative breast cancer from progressing or metastasizing. The discovery is an important first step toward developing novel therapies for triple-negative breast cancer (TNBC), one of the most difficult disease subtypes to treat. The findings were published in the journal Science Translational Medicine today.
TNBCs are typically regarded as aggressive since they are detected at a younger age, emerge in younger people, and grow quicker than other types of breast cancer. Furthermore, if these tumours do not react to chemotherapy in the early stages, they are more likely to spread to other regions of the body. According to the American Cancer Society, the five-year relative survival rate for those with TNBC is 77 percent at all stages, 65 percent for those with regional metastases, and 12 percent for those with distant metastases. Even when the cancer is detected early, it is estimated that one-third of patients would experience a relapse of TNBC after routine chemotherapy and surgery.
We will continue to investigate these significant findings. Using a variety of cutting-edge technologies, we are attempting to characterize the processes through which CECR2 affects gene expression and the tumor microenvironment. In addition, we plan to produce small molecule CECR2 inhibitors for clinical trials.

Associate Professor Qin Yan
"These findings are very encouraging because there are few effective treatments for triple-negative breast cancer once it has spread," said senior study author Qin Yan, Ph.D., Associate Professor of Pathology and Director of the Center for Epigenetics and Biomarkers in the Department of Pathology at Yale School of Medicine, co-leader of the Genomics, Genetics, and Epigenetics Research Program, and Scientific Co-Director of the Yale Cancer Center's Center for Breast Cancer. "We are continually looking for novel and effective therapeutic strategies to aid individuals suffering from this potentially fatal disease."
In this study, researchers examined 13 pairs of primary and metastatic breast tumor samples from breast cancer patients. They discovered a therapeutic target in the form of a gene named CECR2, which boosted expression in cancers that had migrated to distant organs. The researchers observed that CECR2 enabled breast cancer cells to move and infect neighboring tissues while evading detection by the host immune system. As a result of CECR2 targeting, T cells were activated, preventing the tumor from spreading.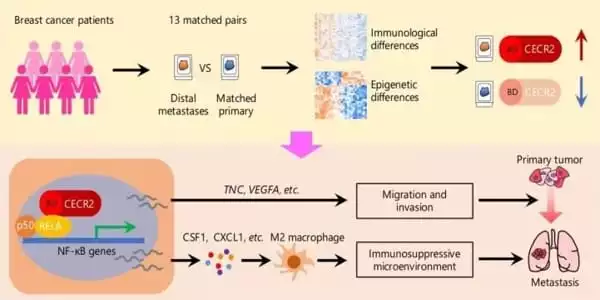 Researchers also showed that small molecule CECR2 inhibitors can decrease the capacity of TNBC cells to propagate in cell cultures and animal models, opening up a novel therapeutic option for treating advanced disease. According to the researchers, the findings could lead to a better response to current immunotherapies, which have a limited efficacy against breast cancer as monotherapies.
Triple-negative breast cancer (TNBC) is a particularly severe form of mammary carcinoma. Because a fraction of TNBC is immune activated, immunotherapy may be a potential treatment option. In metastatic programmed death ligand-1 (PD-L1)-positive TNBC patients treated first line, phase III clinical trials have demonstrated that atezolizumab or pembrolizumab is well tolerated in conjunction with chemotherapy, with a benefit in progression-free survival.
"We will continue to investigate these significant findings," Yan stated. "Using a variety of cutting-edge technologies, we are attempting to characterize the processes through which CECR2 affects gene expression and the tumor microenvironment. In addition, we plan to produce small molecule CECR2 inhibitors for clinical trials."
However, as researchers learn more about the differences in TNBC and create more tailored medications, a diagnosis that once seemed hopeless now has new rays of hope, thanks in large part to dramatic advancements in treatment over the last two or three years. "I'd say we've made a lot of progress recently," Nanda says. "We've had a lot of medications licensed for triple-negative disease in the last couple of years."