You may recall our recent film about the Myatu, Amazon's cheapest e-bike. Simon Richardson drove it around town and found it unexpectedly entertaining. But how does it fair against a professional climber on a proper climb?
To put it to the test, we paired Si and the Myatu against Andrew Feather and his Canyon Ultimate CFR, the number one rated male climber on Strava by volume of KOMs.
What is the battleground? Haresfield Beacon is a 2.2km ascent in Gloucestershire with an average gradient of 8.5%.
The bikes: The Myatu is a substantial e-bike, weighing in at 27kg, thanks in part to a large motor mounted externally on the downtube. It has a capacity of 250 watts and a riding time of slightly under two hours, with low, middle, and high settings.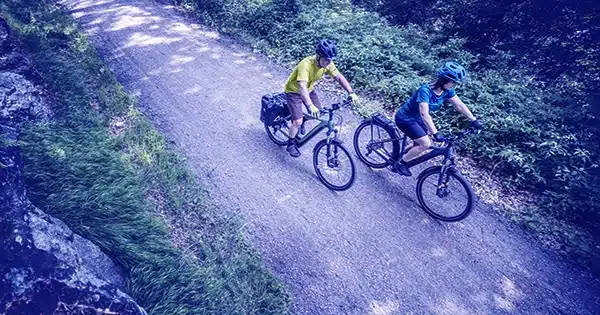 It has a set of 21 Shimano gears and 'all terrain' tires that are somewhat fat and nobbly. It has cabled disc brakes, front suspension, and all the other components you'd expect from a low-cost bike.
Feather's bike, on the other hand, is a Canyon Ultimate CFR, with a carbon frame and wheels and the latest Shimano Dura-Ace Di2 electronic groupset.
The climb and the contest: Haresfield Beacon averages 8.5% across 2.2km, but it's an erratic beast, beginning gently before reaching some ridiculously steep ramps in the middle and then dropping down near the top.
It turned out to be the ideal climb for a thrilling race.
The Myatu, crucially, has a top speed of 25kph. Given that the Strava KOM for the climb sits at an average pace of 20kph, Si should have been able to put Feather to the sword.
However, Feather would be able to exceed 30kph on the top and bottom sections, and Myatu's motor's 250 watts would not be available all the way up.
The two riders start side by side, creating a thrilling see-saw duel. Check out the video above to find out who wins.