Continuous Audit
An auditing process that examines accounting practices continuously throughout the year. Continuous audits are usually technology-driven and designed to automate error checking and data verification in real time. A continuous audit driven system generates alarm triggers that. Provide advance notice about anomalies and errors detected by the system. It is helpful in deteriorating abnormal or non-compliant activity in manifold areas of a firm and ensuring that established procedures are being followed. For example, in the accounts payable department, the continuous audit system could stop an illicit amount from being sent to a vendor.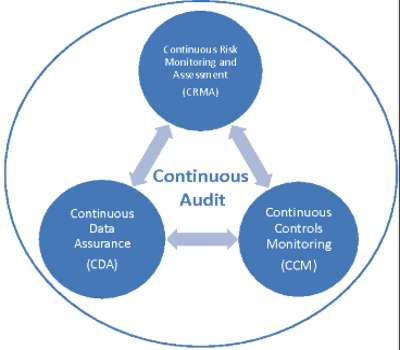 Fig: Continuous Audit
It is an automatic method used to perform auditing activities, such as control and risk assessments, on a more frequent basis. Continuous auditing has the similar objective of usual auditing, which is to recognize weaknesses in processes and opportunities for development. Continuous auditing cannot, however, replace the judgment and discretion of an auditor who understands the circumstance of processes and can think about how metrics, processes, and assessments are related. But, there are three important techniques that can be used with continuous auditing to notably decrease the time it takes to recognize probable weaknesses in processes.