The new Elgato Prompter is an all-in-one teleprompter setup that works with most webcams, digital cameras, and iPhones at an incredibly cheap price. Elgato has produced a teleprompter that leverages both its Facecam high-quality webcam and its Stream Deck control for the Mac. The Elgato Prompter is a single-piece gadget that incorporates a 9-inch monitor for $280.
The cost is substantial, but so is the business of including a display. Most teleprompters in this price range or slightly more include a holder for an iPad or an iPhone to display a script for a presenter to read from.
This display can also be used as an additional monitor. According to Elgato, it "automatically mirrors any app, file, or browser that you move onto its screen."
A program can be dragged from the Mac's screen to the Prompter's screen in the same way that Universal Control or Sidecar can. The app is displayed on the monitor, and a rotating view is mirrored up onto the glass of the Prompter.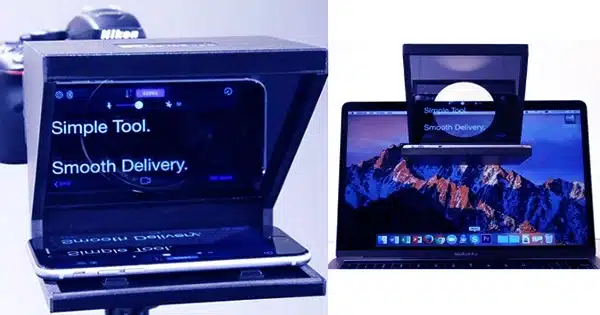 Teleprompters are typically passive mounts. The screen of an iPad or iPhone is reflected up onto the prompter's glass, and another iPhone or camera is positioned to shoot through that glass.
Typically, there is no direct link between the prompter and anything else. The Elgato Prompter, on the other hand, plugs into a Mac (or PC) via a USB-C connector.
This enables the Mac to run the teleprompter software. It employs Camera Hub, an Elgato program formerly used only for adjusting the Facecam webcam.
Prompter may be managed by Stream Deck, making it suitable for presenting over Zoom, for example. However, because it lacks a remote control, pausing a scrolling teleprompter script requires the Mac's mouse, keyboard, or trackpad.
Elgato does sell a Stream Deck Pedal, which could potentially pause and play a teleprompter script with a foot touch. The $80 Stream Deck Pedal, on the other hand, is not one of the alternatives included in Elgato's suggested bundles.
The Environment of Elgato: Because the Elgato Prompter is compatible with the company's Facecam and Stream Deck, it is available both alone and as part of several build-your-own packages. The Prompter does not come with a tripod, thus a mount must be purchased separately.
Elgato's packages come with either a Telescope mount ($40) or a Low Profile Arm ($99).
Extras like this are normally how a low-cost gadget loses its low-cost status, but while a mount is required, it does not have to be an Elgato one. Instead, the Prompter comes with the flexibility to attach to a variety of standard mounts.
Elgato Prompter's hardware looks intriguing, and at this price, it's bound to be a big hit. In practice, its usefulness will be determined by the Elgato Camera Hub app.
However, the lack of a remote control is a problem. Furthermore, it does not appear that the Camera Hub app can use the camera's microphone to listen to the presenter's rate of speaking and modify its scrolling speed accordingly.