Theodore Levitt proposes that in planning its market offering, the marketer needs to think through 5 levels of the product. Each level adds more customer value and taken together forms Customer Value Hierarchy.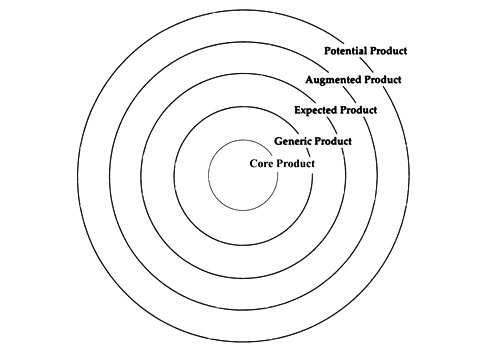 The Product Model
This is the basic product and the focus is on the purpose for which the product is intended.
For example, a warm coat will protect you from the cold and the rain.
This represents all the qualities of the product. For a warm coat, this is about fit, material, rain repellent ability, high-quality fasteners3, etc.
This is about all aspects the consumer expects to get when they purchase a product. That coat should be really warm and protect from the weather and the wind and be comfortable when riding a bicycle.
This refers to all additional factors which set the product apart from that of the competition. And this particularly involves brand identity and image. Is that warm coat in style, its color trendy and made by a well-known fashion brand? But also factors like service, warranty, and good value for money play a major role in this.
This is about augmentations and transformations that the product may undergo in the future.
For example, a warm coat that is made of a fabric that is as thin as paper and therefore light as a feather that allows rain to automatically slide down.