Berlo's S-M-C-R Communication Model
David K. Berlo, a communication theorist and consultant developed a model named S-M-C-R model of communication in 1960 in his book "The Process of Communication". Berlo pointed out the importance of the psychological view in his communication model. The four parts of Berlo's S-M-C-R model are S = source, M = message, C = channel and R = receiver.
The model is as follows: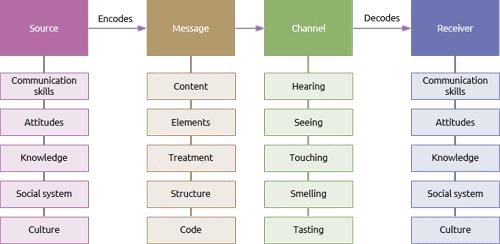 The elements of Berlo's model are discussed below:
(1) Source: The first element of Berlo's communication model is the source. All communication must come from some sources. The source might be one person, a group of people, or a company. Several things determine how a source will operate in the communication process such as:
Communication skills like abilities to think, write, draw and speak.
Attitudes toward the audience, the subject matter etc.
Knowledge of the subject, the audience, and situation.
Social background, education, friends, salary, culture etc.
(2) Message: Message is the information, views or thoughts to be sent by the source. The source must choose the code or language for sending the message
(3) Channel: The channel is the method such as telegraph, newspaper, radio, letter, poster or other media through which the message will be transmitted
(4) Receiver: Receiver is the final element in the communication process. The receiver is the audience for the message.
Criticism of Berlo's SMCR model of communication:
No feedback / don't know about the effect
Does not mention barriers to communication
No room for noise
Complex model
It is a linear model of communication