You're invited to join NOAA and partners in exploring the underwater depths of the Monitor National Marine Sanctuary with remotely piloted submarines in quest of some of the best-preserved shipwrecks known to lie off the coast of North Carolina during the next week and a half. The exploration of the E.M. Clark, one of the largest complete US merchant shipwrecks from WWII, will be live-streamed today, May 16.
The E.M. Clark was a US tanker ship that transported petroleum products to help the Allied war effort both at home and overseas during WWII. From stern to bow, the ship measures a gigantic 79 meters (260 feet) and is in excellent shape, making it a perfect wreck to investigate and inspect. On March 18, 1942, it was lost off the coast of North Carolina after being hit by a torpedo from a German U-boat. The ship swiftly sank, with just one of the 41 crew members surviving on two lifeboats.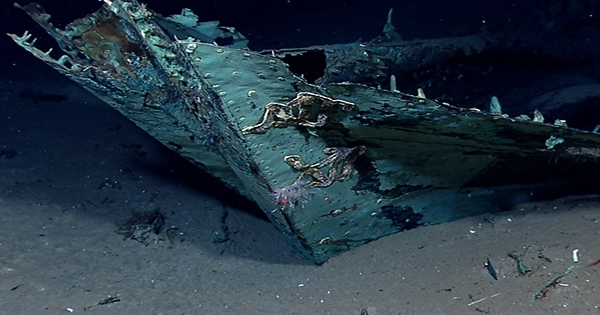 You may watch the live broadcast from allwrecks.org or YouTube in the video players below until 17:00 EST today (May 16), but don't worry if you missed it; there will be plenty more to come. The voyage to the wreck of the E.M. Clark is just one aspect of the Valor in the Atlantic project, which runs from May 15 to May 25 and is organized by NOAA and the Global Foundation for Ocean Exploration (GFOE). All of this is being streamed live in the players below.
The USS Monitor, a Civil War warship that sank 160 years ago 25 kilometers (16 miles) off the coast of Cape Hatteras in North Carolina, is one of the primary destinations on this tour. In 1973, the vessel was rediscovered on the seabed at a depth of around 73 meters (240 feet). In a news statement, Nicole LeBoeuf, director of NOAA's National Ocean Service, said, "This is the first in-depth investigation of both the historic and biological environment of the USS Monitor since NOAA and the US Navy recovered the Civil War vessel's famous gun turret in 2002."
"The seas off the coast of North Carolina are historically and ecologically significant, and today's technology provide fascinating new avenues to participate in exploration and scientific discovery." The Monitor National Marine Sanctuary was established to conserve this spectacular artifact of American history after its discovery, a 1.6-kilometer-wide (1-mile) tract of water encircling the warship that provides official protection.
The Monitor National Marine Sanctuary is home to the USS Monitor from the Civil War, as well as E.M. Clark and scores of other Allied and German ships lost in WWII, as well as a few ships from WW1 and the interwar era. For more, stay tuned to the live feeds above!