The much-awaited 3.0 CSL, a limited-production vehicle based on the M4 with a completely revised body inspired by the original from the 1970s, has finally been unveiled by BMW. It will only be made in 50 numbered units and will serve as the culmination of the celebrations for BMW M's 50th anniversary. The most potent six-cylinder engine in the history of the Bavarian carmaker, producing 553 horsepower (412 kW/ 560 hp), is installed in the 3.0 CSL, which is significantly lighter than any M4 and coupled to a manual transmission.
Unsurprisingly, the design is based on the stunning 2015 BMW 3.0 CSL Hommage Concept, however, it has been scaled back for production while keeping the M4's strong qualities.
The M4 CSL provided the yellow-themed headlights and the laser taillights, but because the M4 CSL's distinctive bulged front and rear fenders partially obscure them, they appear different. The new M3/M4 no longer has the divisive grille; in its place are more fashionable kidneys with an aluminum finish. The trunk, bonnet, and doors are made of this material. Additionally, BMW designers included the Hofmeister kink that the M4 lacked.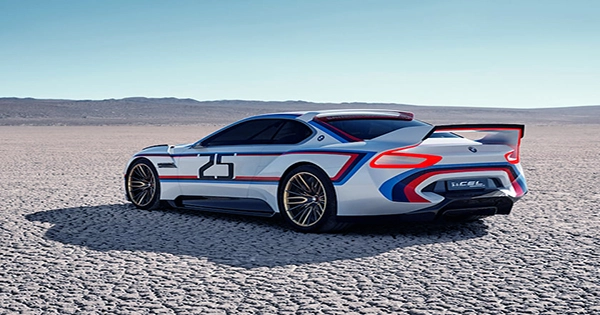 The design's enormous rear wing and additional roof-mounted spoiler, which are reminiscent of the E9 3.0 CSL "Batmobile," are likely its most eye-catching elements. The gorgeous racing livery with BMW M insignia on the Alpine white tint is no different, requiring an additional 6,700 hours of labor during a specific paint process. The 20-inch front and 21-inch rear custom Michelin tires are mounted on contrasting gold-finished alloy wheels.
The twin-turbo 3.0-liter inline-six engine found under the hood of the 3.0 CSL is the most potent version ever made by BMW, producing 553 horsepower (412 kW/ 560 PS) and 550 Nm (405.6 lb-ft) of torque. Due to the limitations of the manual transmission, this results in an increase of 9 horsepower (7 kW / 10 PS) in comparison to the M4 CSL, but a substantial decrease in torque of 100 Nm (73 lb-ft).
Speaking of which, the 3.0 CSL uses the Active M Differential in conjunction with a six-speed manual gearbox to exclusively deliver power to the rear axle. The Adaptive M Suspension and standard M carbon ceramic brakes, which represent the most recent technological developments made by BMW, have also been adjusted into the chassis.
The 3.0 CSL weighs 1,270 kg and wears the "Coupé, Sport, Leichtbau" (Coupé, Sport, Lightweight) badge (2,800 pounds). This significantly improves the power-to-weight ratio by being 355 kg (782 pounds) lighter than the M4 CSL and a full 455 kg (1,003 pounds) lighter than the M4 Competition. Despite the fact that no one really cares about figures in a custom car, BMW didn't disclose the vehicle's performance stats.
Source: https://twitter.com/BMW_UK/status/1595696227005366272?