Light-harnessing sensors, such as optical sensors and imaging technology, have showed promise in a variety of sectors, including rehabilitation. Light-based sensors can give non-invasive and reliable data, making them useful instruments for monitoring and supporting people in rehabilitation. A research team uses computer vision integrated optical sensors to overcome the limitations of traditional strain sensors.
A Korean company recently donated to a hospital a wearable robot meant to help patients with limited mobility during their recovery. These patients wear this robot to get help with muscle and joint workouts while walking or sitting. Wearable gadgets, such as smartwatches or eyewear that individuals wear and connect to their skin, have the potential to improve our quality of life, providing a ray of hope to some people, much like this robotic breakthrough.
These rehabilitative robots' strain sensors evaluate data by converting particular physical changes in specific locations into electric signals. Because they are constructed of lightweight materials for easy attachment to the skin, these sensors are pliable and adept at detecting even the most minor biological changes. Traditional soft strain sensors, on the other hand, frequently display insufficient endurance due to vulnerability to environmental influences such as temperature and humidity. Furthermore, their sophisticated manufacturing method makes widespread commercialization difficult.
The CVOS sensors excel in distinguishing body movements across diverse direction and angles, thereby optimizing effective rehabilitative interventions. By tailoring design indicators and algorithms to align with specific objectives, CVOS sensors have boundless potential for applications spanning industries.

Professor Sung-Min Park
A research team led by Professor Sung-Min Park from the Department of Convergence IT Engineering and the Department of Mechanical Engineering and PhD candidate Sunguk Hong from the Department of Mechanical Engineering at Pohang University of Science and Technology (POSTECH) has successfully overcome the limitations of these soft strain sensors by integrating computer vision technology into optical sensors. Their research findings were featured in npj Flexible Electronics.
During their research, the researchers created a sensor technique called as computer vision-based optical strain (CVOS). In contrast to conventional sensors that rely on electrical impulses, CVOS sensors use computer vision and optical sensors to evaluate microscale optical patterns and extract data about changes. This technique improves durability by removing parts that degrade sensor functionality and simplifies manufacturing procedures, allowing for sensor commercialization.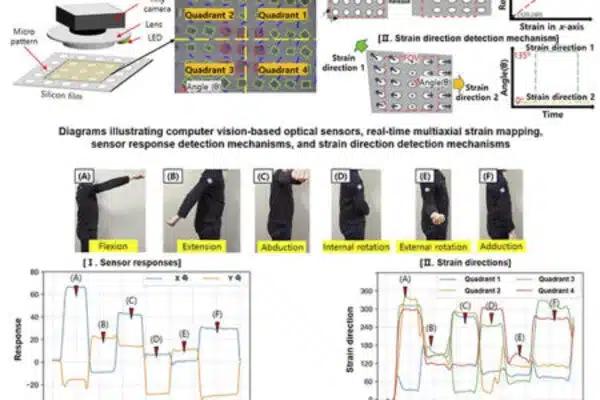 Unlike traditional sensors, which can only detect biaxial strain, CVOS sensors can detect three-axial rotating movements using real-time multiaxial strain mapping. In principle, these sensors allow for the precise detection of complex and diverse bodily motions with a single sensor. This claim was supported by tests that used CVOS sensors in assistive devices in rehabilitative treatments.
The experiment findings demonstrated a high level of confidence due to the incorporation of an AI-based response correction system that corrects multiple error elements originating during signal recognition. These sensors consistently maintained their excellent performance even after more than 10,000 iterations.
Professor Sung-Min Park who led the research explained, "The CVOS sensors excel in distinguishing body movements across diverse direction and angles, thereby optimizing effective rehabilitative interventions." He further added, "By tailoring design indicators and algorithms to align with specific objectives, CVOS sensors have boundless potential for applications spanning industries."