Some film of a man in a gorilla costume chasing fellow astronauts around the International Space Station (ISS) goes viral every now and then, and for obvious reasons. Spence Todd posted on Twitter, "In the most recent version of events, "Mark Kelly, an astronaut on the International Space Station, once snuck a full gorilla suit aboard. He kept it a secret from the rest of the group. He put it on one day without telling anyone."
However, the facts have a little jumbled over time. Scott's brother Mark came up with the idea for the prank when he called Scott in 2015 and told him he was sending a gorilla suit because there had never been a gorilla in space before. The first gorilla suit blew up on a SpaceX trip in 2015, but he was already hooked on the idea and vacuum-packed a second one the following year. Scott shot the video alongside Tim Peake, who was on board with the concept.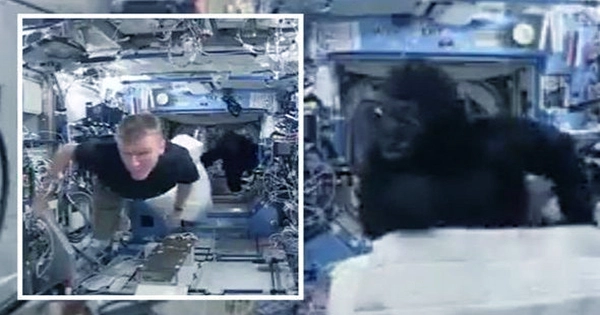 Scott told People, "That's all planned." "We wanted it to seem comical, so he's floating about, swimming in the air." Even if the clip is not of an actual astronaut fleeing in fear of a space gorilla, it does not mean he did not scare the hell out of colleague's astronauts wearing the suit. The two kept the fact that there was a gorilla suit aboard the space station a secret from the rest of the crew, and Scott took advantage of the opportunity to hide in the sleeping quarters until a fellow crewmember arrived.
"I burst out of there when he went to open the door," Scott claimed, adding, "I was a little scared afterward that I could have given him a heart attack or something." Later, he put on the gorilla costume and floated down to the Russian section of the station, where he was greeted with laughter rather than a heart attack. The costume was trashed after a few gorilla-based antics and some instructive videos delivered by a space ape, in case others were not as responsible with the powers of the space gorilla suit as he was.