Blood Donation
Blood is a life saving component in human life and safe blood is a fundamental need for an ailing person in order to get cured. As a result, UN organization has declared 14 June as World Blood Donor Day, thereby laying immense emphasis on the importance of voluntary donation of blood by adult and healthy people. But in developing countries the scenario is rather frustrating. Voluntary blood donation campaign lags far behind in meeting the total requirement. Millions of people need blood transfusions each year. Some may need blood during surgery. Others depend on it after an accident or because they have a disease that requires blood components. Though the demand for blood is high and many of us are eligible to donate, very few of those are eager to give blood.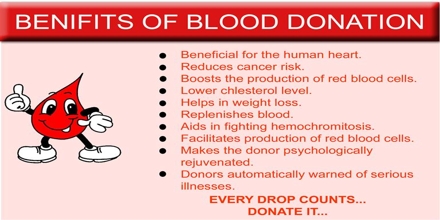 So voluntary blood donating is rather frustrating in Developing country. Blood donation requires external motivation as most people are easily misled by misconceptions and hesitate to donate blood. Some are scared at the thought of a needle piercing their vein to collect blood. Many myths and misconceptions abound in Bangladesh which defers potential blood donors. Experts say that blood donation is safe. New sterile disposable equipment is used for each donor, so there's no risk of contracting a blood borne infection by donating blood. Also, blood donor centres strictly enforce screening guidelines and eligibility requirements to make sure that donating will not harm the donor. A healthy adult can donate a pint of blood without endangering the donor's health. Within 24 hours of a blood donation, the body replaces the lost fluids. And after several weeks, it replenishes the lost red blood cells. By donating blood the iron stores in the body are maintained at healthy levels. A reduction in the iron level in the body is linked with low cancer risk. Blood donation is beneficial in reducing risk of heart and liver ailments caused by iron overload in the body.
But the scary news, indeed is that more than 80 percent of the demand of blood in Bangladesh comes from professional blood donors, most of whom suffer from various blood borne diseases like hepatitis B virus (HBV), hepatitis C virus and HIV or AIDS. These contaminated bloods are sold to the patient by a group of brokers led by some unscrupulous employees of the hospitals.
Blood is the nearly all valuable gift that anyone can give to another person; the gift of life. A assessment to donate your blood can save a life, or even quite a few if your blood is separated into its components: red cells, platelets and plasma — which can be used individually for patients with particular situations.