A screenshot of Google's new cookie consent window has been released. The new popup will first be available in France on YouTube. However, Google has said that the new design will be implemented across all Google services in Europe. The CNIL, France's data authority, punished Google €150 million ($163 million at today's currency rate) for breaking French law just a few months ago. According to the French body, Google did not follow existing regulations when it came to giving users with tracking options, sometimes known as the "cookie banner" or "cookie popup."
Without further ado, here is the new design that is being gradually implemented: The information has been updated. What's more, the options at the bottom of the screen are vastly different. Users had two options in the previous design: "I agree" and "Customize." If you chose "Customize," Google would redirect you to a new page with a variety of possibilities. You had to click "off" three times and then accept to disable all customization options.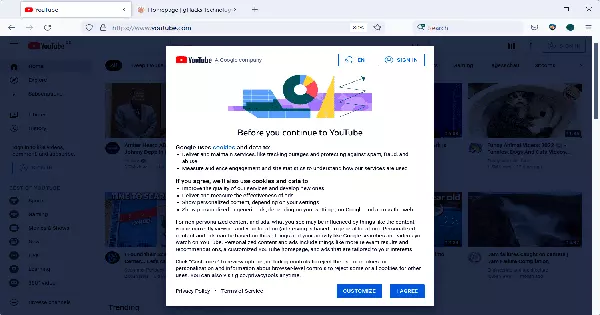 There are now three buttons in the new design. A new "Deny All" button has been added to the current buttons, allowing you to opt out of all tracking with a single click. The color, size, and form of the two major buttons are identical. Online services must get explicit consent from their users before processing data under the EU's General Data Protection Regulation (GDPR). In order for permission to be legally gained, it must be informed, precise, and voluntarily provided. In the case of the French fine, the CNIL is relying on the ePrivacy Directive, which has been incorporated into the French Data Protection Act, to demonstrate that it is a competent body to evaluate and penalize cookie-related actions.
In a news statement from January, the CNIL stated, "The CNIL has received several complaints concerning the way cookies can be denied on the websites google.fr and youtube.com." "In June 2021, the CNIL conducted an online investigation on these websites and discovered that, while they provide a button that allows users to accept cookies immediately, they do not provide an equivalent solution (button or otherwise) that allows users to refuse the deposit of cookies as easily." It takes many clicks to reject all cookies, compared to just one to approve them." The new design appears to be a result of the CNIL's probe, albeit Google does not address it explicitly in its blog post.
"We overhauled our strategy following talks and in accordance with specific directions from the Commission nationale de l'informatique et des libertés (CNIL)." "We've updated the infrastructure we employ to control cookies in particular," Google stated. The business aims to utilize the same appearance for its search engine after launching the revised popup on YouTube in France. It will be available in France, as well as the European Economic Area, the United Kingdom, and Switzerland.
Despite this, many users will miss the updated popup. If you already have a Google account, Google doesn't need your permission because your preferences are saved on your profile page. Furthermore, if you use Google Chrome, your web browser is probably linked to your Google account if you've ever signed into a Google service. Users who do not have a Google account, in other words, will have additional alternatives. I also recommend that if you have a Google account, you examine your privacy settings.