During the Pleistocene era (25,000 years ago), many regions of the world became raised and formed uplands. These regions are called Pleistocene uplands. Pleistocene Terrace a bench-like structure bordering an undersea feature. During Pleistocene time, sea level fluctuated in response to the quantity of glacial ice on the continent.
In Bangladesh, the Barendro region, Modhupur Gorh and Lalmai hills are parts of these uplands. Topographically these Pleistocene Terraces are slightly elevated from the adjacent active floodplains. The environmental characteristics and flora and fauna of these regions are almost similar. But the large area of Shaalbon is noticeable. The sediments of these Terraces are deeply weathered and strongly oxidized.
Barendro: The region occupies the north-western region of Bangladesh including Chapainowabganj, Rajshahi, Nowgaon, Jaipurhat, and part of Dinajpur. The total area of this region is about 9300 square kilometers and situated at about 6 -12 meters (20-40 feet) above sea level. In some areas of this region, the soil is terraced in steps.
Modhupur Gorh: Modhupur Gorh includes Modhupur of Tangail district, Jamalpur, Gazipur, and parts of Dhaka and Narsingdi district. The total area of this land is about 4100-square kilometers and situated at about 15 -30 meters (50 -100 feet) above the sea level. Long ago there was a continuous Shaalbon of 160 kilometers long from Jamalpur to Dhaka. Now, this forest is shattered into pieces. Though Chandra, Rajendrapur or Bhawal are treated as separate forests they are actually parts of the Modhupur forest. Brahmaputra and Shitalalcchma rivers separate the eastern part of this forest from the main uplands. Egaro Sindhur, Shibpur, and Monohardi thana and part of Sonargaon are part of this separated region.
Lalmai Hills: Lalmai Hills is situated near Comilla town and is about 14.5 kilometers (9 miles) in length and 0.8 -2.4 kilometers (0.5 -1.5 miles) in breadth. This is also a part of Pleistocene uplands. This hill is about 6 -12 meters (20 -40 feet) in height. Its highest pick is more than 46 meters (150 feet). Probably the name 'Moinamoti Shaalbon Bihar' originates because of the presence of Shaal forest here.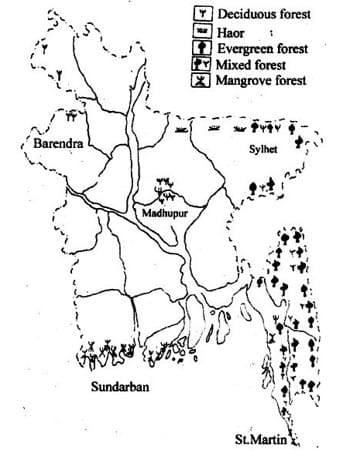 Environmental Characteristics: Soil of Pleistocene uplands is infertile and reddish or somewhere grayish. Rainfall is inadequate, less than 2000 m.m. in a year. Climate is to some level severe, high temperature in summer, dry winter, less humidity in the air; these are the characteristics of this region.
Major Plants: One of the characters of this upland is the presence of Shaalforest. 97% tree of this forest is Shaal tree from which the name Shaal forest originates. Among other trees, there are wild Chalta, Gachhi Gajari, Koroi, Kumvi, Gamari, Palash, Vela, Bahera, Haritaki, etc.
Major Animals: Monkeys, squirrel, jackals Langoor, several species of snakes, mongoose and different kinds of birds are the major animals of the Barendra region. In the Modhupur region, the major animals are monkeys, entellus, jackals, lizards, woodpeckers, owls, kites, mongoose, water monitor, squirrels and tree frogs. Once leopard and deer were abundant here but now they are very scanty.