Planetary scientists have released a new map of Mars, marking the possible location of significant ice deposits beneath its surface. Today the Red Planet is a dry desert, but in ancient times, the planet was in the water. Some of that water still exists existing below the surface. Understanding water availability is to future exploration of Mars. The new work, published in Nature Astronomy, combines orbital data sets from NASA's Mars Reconnaissance Orbiter, Mars Odyssey and Mars Global Surveyor. The data reprocessed with new computing techniques and with it; the team provided the SWIM (Subsurface Water Ice Mapping) study. The map shows a wide deposit of ice at 30 degrees north latitude, but the distribution across the planet is not evenly equal to about 50 degrees. Ice deposits explode at vast depths – as shallow as a handful of centimeters all the way up to one kilometer (0.6 miles).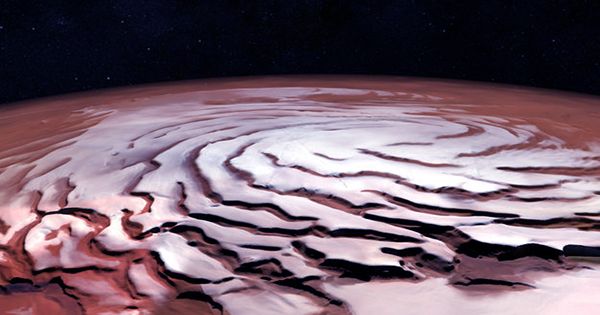 "SWIM's goal is to provide a map of potential buried ice deposits to support the selection of human landing sites. Ice is a critical resource that has many uses, such as water for human consumption, plant growth for food, and methane for fuel and respiratory generation. However, the most important thing is to fuel the return journey to Earth, "said Dr. Gareth Morgan, lead author of the Planetary Science Institute, in a statement. The study considers the exploitation of the Martian environment for fuel."
If future explorers have to make fuel out of it, ice is an important resource, but it is not the only consideration. The location is also very important, because with the change of seasons, some areas of Mars become very cold and dark. Without further ado, the planet is already highly objectionable to humans.
"Of course, much more needs to be done to ensure safe landing and survival on Mars than the proper use of aquatic resources, including landing protection and solar and thermal properties," he said. Morgan concludes that determining the need for such a site may be outside the scope of the SWLIM project and premature, as plans for all human Mars missions are still at a conceptual stage, "Morgan said." We support early landing-site studies and community feedback to regional Martian regions of ice. We provide a hemispherical view of ice distribution to enable delimitation."