Important Drainage Patterns
In geomorphology, drainage systems, also known as river systems, are the patterns formed by the streams, rivers, and lakes in a particular drainage basin. A river drains the water collected from a specific area, which is called its 'catchment area'. An area drained by a river and its tributaries is called a drainage basin. They are governed by the topography of the land, whether a particular region is dominated by hard or soft rocks and the gradient of the land.
Important Drainage Patterns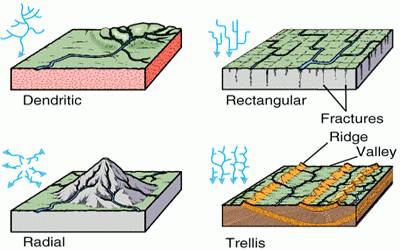 (i) The drainage pattern resembling the branches of a tree is known as "dendritic" the examples of which are the rivers of northern plain.
(ii) When the rivers originate from a hill and flow in all directions, the drainage pattern is known as 'radial'. The rivers originating from the Amarkantak range present a good example of it.
(iii) When the primary tributaries of rivers flow parallel to each other and secondary tributaries join them at right angles, the pattern is known as 'trellis.
(iv) When the rivers discharge their waters from all directions in a lake or depression, the pattern is known as 'centripetal'.