Outwash Plains: Erosional Landforms
Outwash plains made up of outwash deposits are characteristically flat and consist of layers of sand and other fine sediments. The plains at the foot of the glacial mountains or beyond the limits of continental ice sheets are covered with glacio-fluvial deposits in the form of broad flat alluvial fans which may join to form outwash plains of gavel, silt, sand, and clay.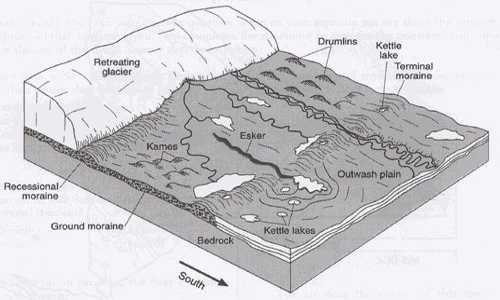 An outwash may attain a thickness of 100 m (328 feet) at the edge of a glacier, although the thickness is usually much less; it may also extend many kilometers in length. Outwash plains can extend for miles beyond the glacier margin. For example, outwash deposits from the Wisconsin Glaciation can be traced to the mouth of the Mississippi River, 1,120 km (700 miles) from the nearest glacial terminus.