Sand Dunes: Erosional Landforms
Dry hot deserts arc good places for sand dune formation. Obstacles to initiate dune formation are equally important. There can be a great variety of dune forms.
Wind is a good sorting agent. Depending upon the velocity of wind, different sizes of grains are moved along the floors by rolling or saltation and carried in suspension and in this process of transportation itself, the materials get sorted. When the wind slows or begins to die down, depending upon sizes of grains and their critical velocities, the grains will begin to settle. So, in depositional landforms made by wind, good sorting of grains can be found. A dune is a mound of sand formed by the wind, usually along the beach or in a desert. Dunes form when the wind blows sand into a sheltered area behind an obstacle. Dunes grow as grains of sand accumulate. Every dune has a windward side and a slipface.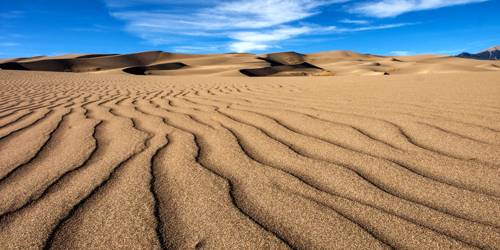 Sand dunes serve an important purpose by protecting inland areas from coastal water intrusion. Since wind is there everywhere and wherever there is the good source of sand and with constant wind directions, depositional features in and regions can develop anywhere. They are able to absorb the impact and protect inland areas from high energy storms and act as a resilient barrier to the destructive forces of wind and waves.