Katabatic Wind
Any wind blowing down the slope of a mountain. They create where there are high ice sheets or snowy elevated plateaux rationally close to lower, comparatively warmer regions, often coasts.
The katabatic wind is the generic term for downslope winds flowing from high elevations of mountains, plateaus, and hills down their slopes to the valleys or planes below. It can rush down elevated slopes at storm speeds, but the majorities are not as strong as that, and many are of the order of 10 knots (18 km/h) or less. These winds exist in many parts of the World and there are many diverse names for katabatic winds depending where they are situated and how they are formed.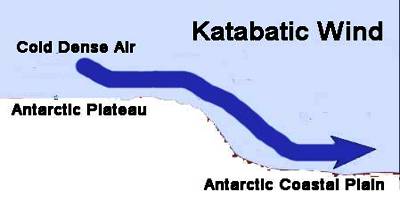 Warm, dry katabatic winds happen on the lee side of a mountain range located in the lane of a depression. Examples of these downward, adiabatically warmed katabatic winds are the Foehn winds. A large-scale katabatic wind that descends too quickly to warm up is called a fall wind. In areas where fall winds happen, homes and orchards are situated on hillslopes above the lowlands where the cold air accumulates.