Meet Msituni (pronounced see tune knee), a three-month-old giraffe at the San Diego Zoo Safari Park who was born with hyperextension of the carpi, a disease that makes it difficult for her to stand or walk. This ailment would be fatal in the wild since it would prohibit her from feeding and walking.
The conservation organization's animal health and care staff worked with orthotists from Hanger Clinic to have her fitted with a pair of specialist orthotic braces, which they painted in a charming giraffe design for a more natural look. This was not an ordinary situation for the doctors at Hanger Clinic, since their customers are generally human and much smaller than the 1.78-meter (5 foot 10 inches) height (and rising) of young giraffes.
But they rose to the occasion and collaborated with the animal care team to create a unique strategy for this juvenile giraffe. The custom-molded carbon graphite orthotic braces were created using cast molds of Msituni's front legs. Fortunately, Msituni only required one brace because the other had self-corrected with a medical-grade brace.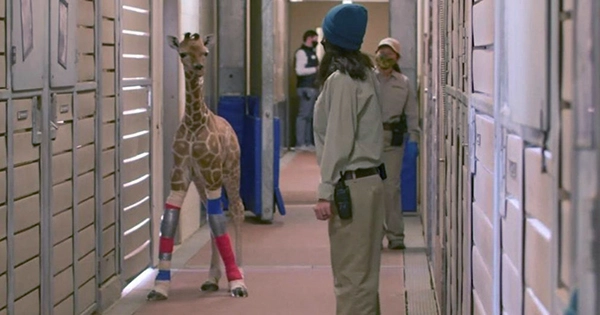 Ara Mirzaian, a certified orthotist at Hanger Clinic, remarked, "I feel a huge feeling of achievement." "I've never worked with animals before, and it's one of those once-in-a-lifetime opportunities that you simply have to enjoy." Zoos are increasingly turning to human medical personnel and solutions to treat animals, making this feel-good narrative more prevalent and successful. A 3D-printed prosthesis was used earlier this year to save the life of a Great Hornbill who had been diagnosed with cancer. In 2021, a newborn elephant's foot was amputated after it was caught in a snare. This human-to-animal operation, however, was nevertheless a learning experience for the crew.
"We put on casts and bandages all the time." But something as complex as this brace she was given, we had to resort to our human [medical] colleagues for," said Matt Kinney, DVM, senior veterinarian at the San Diego Zoo Safari Park. Msituni's life has not been easy; in addition to her front leg anomalies, she has suffered from a variety of illnesses since her birth. She had blood irregularities that the team had to treat with antibiotics, as well as abnormally positioned rear legs that necessitated the use of specialist hoof extenders.
Despite these setbacks, all of the procedures were successful, and her braces have been removed since her legs are now properly aligned, and she is no longer on any medications. She's also been introduced to the rest of the giraffe herd at the Safari Park's 60-acre East African savanna environment. Another baby giraffe calf named Nuru (pronounced nu roo) will be Msituni's companion. Nuru is four days younger than Msituni. Her mother never took her back, but she was adopted by another woman.
Kristi Burtis, director of wildlife care at the San Diego Zoo Safari Park, remarked, "This was a key stage in Msituni's natural growth." "As her link with the herd strengthens, she will be able to learn behaviors and abilities critical to a baby giraffe's growth." All giraffe births are significant since the population has decreased by 40% in the previous 20 years, and there are thought to be less than 100,000 left in their natural environment. Poaching, habitat degradation, and habitat fragmentation have all contributed to the decline in some areas.
The San Diego Zoo Wildlife Alliance is now working on a variety of large-scale conservation programs with a variety of organizations in order to halt and finally reverse the decrease of giraffe populations. "Every animal's birth is cherished," Kinney added, "and Msituni's survival in the face of such difficulties makes it all the more extraordinary." For the time being, Msituni, go little rockstar!