AC Cars, one of Britain's oldest automobile manufacturers, has officially introduced the GT Roadster, a modern-day counterpart of the classic AC Cobra. The new vehicle was unveiled at a special event held at Tottenham Hotspur Stadium.
The new AC Cobra GT Roadster is highly inspired by the original model, but it has been modernized and will be available in both left and right-hand drive options. The car is supported by a new chassis that has a 284 mm (11.1 inches) longer wheelbase than the original vehicle and a wider track. The frame is extruded aluminum, while the bodywork is carbon composite and weighs only 50 kg (110 lbs).
According to AC Cars, the new Cobra GT Roadster will be equipped with a 5.0-liter supercharged V8 engine that produces 454 hp and 420 lb-ft (570 Nm) of torque in standard configuration and 654 hp and 575 lb-ft (780 Nm) in the flagship model. Customers can get the 5.0-liter supercharged V8 with a six-speed manual transmission or a 10-speed automatic transmission with paddle shifters.
AC Cars has stated that the flagship Cobra GT Roadster can reach 60 mph (96 km/h) in 3.4 seconds. The fact that it weighs only 1,450 kg (3,196 lbs) contributes significantly to its performance.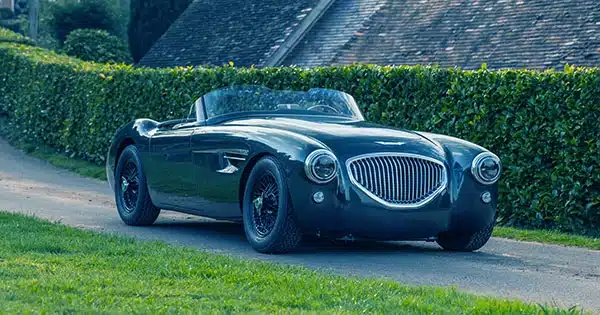 The vehicle's outward design is nearly identical to the original, but the proportions have changed slightly due to its larger size. Some of the components have also been updated. The automobile, for example, comes standard with new headlights with LED daytime running lights and rides on much larger wheels.
The car's interior is also brand new. The dashboard is filled with circular gauges, and a three-spoke steering wheel is standard. A Start/Stop button is likewise disguised beneath a red flap that can be simply flicked open, as seen on other Lamborghini models. There is also a small infotainment screen.
"Our goal was to surpass the expectations of our esteemed clientele, who have grown accustomed to the finest in automotive luxury," AC Cars CEO David Conza stated following the premiere. "The overwhelmingly positive feedback we received from attendees confirms that we far exceeded our expectations." The AC Cobra GT Roadster exemplifies our steadfast dedication to quality. We are thrilled that clients from all over the world could join us, and we appreciate their trust in us."