If you've worked with PDF files and discovered that you can only access some capabilities, it's worthwhile to find a one-stop PDF editor like UPDF. You receive a number of practical features that you can utilize at your discretion and alter your PDF files however you see fit. At this one large and feature-rich PDF editor, you can edit, annotate, convert, read, and organize your PDF files. UPDF offers such strong tools that boost productivity. Additionally, there are some sophisticated capabilities that allow you to edit pages, images, links, and text directly within the PDF editor. UPDF is your go-to tool for all things PDF because to its extensive feature set and productivity tools!
Key features of UPDF: The functions are what distinguish UPDF as a favored PDF editor. Both professional use and informal reading and editing benefit from these features. Let's take a quick look at how the features assist users in working with their PDF documents.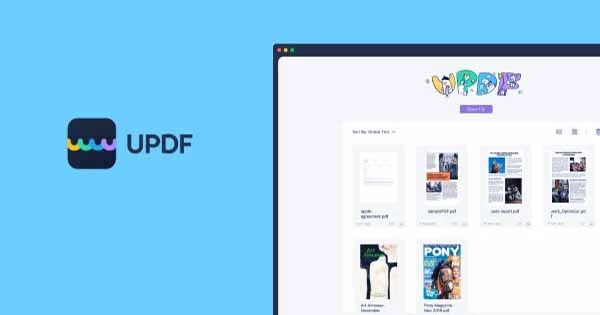 View PDF: A rich and customized reading experience is provided by UPDF. The tools are available to improve your readability and provide a simple reading interface that can feel as natural as reading printed text. With this amazing PDF editor, you can set the page layouts and customize your reading as a two-page view, single-page view, scrolling, or two-page scrolling. Readers can read PDF files without straining their eyes by switching to Dark Mode. With the help of options, UPDF allows users to alter the PDF's backdrop and make it uniquely their own. Readers can add bookmarks and search phrases to their PDF files to make it easier to find the pages they need. To access what they were reading, readers won't need to browse through the pages. Multiple PDF documents can be read simultaneously using a multi-tab view. In this method, users may read several PDF files simultaneously and accelerate the reading process. Using a slideshow to view your PDF document in UPDF provides the finest reading experience. Slideshows display your PDF in its original format, regardless of how it has been formatted.
Edit PDF: Readers may alter text, graphics, links, and backgrounds, and add watermarks to the entire PDF file with the aid of UPDF. Text editing options include changing the text's font family, color, style, and size. The wording may be changed or eliminated as desired. Using the UPDF editor, readers can trim, extract, replace, add, remove, and do a lot more with images. With the help of the PDF document's efficient link-building system, viewers can add links to websites or join pages together. To safeguard their PDF documents, readers can apply image watermarks, and text watermarks, and modify their opacities, ratios, and other visual elements.
Organize PDF: Users can now alter their PDF documents much more with the use of this capability, including rotating, removing, deleting, and rearrangement PDF pages. Users can add blank pages and remove unnecessary pages from a PDF document by choosing them and then deselecting them. Users can rotate PDF pages to provide greater consistency in their PDF document by turning them left or right. Users can reorder PDF pages by thumbnails and move them to a new location using the incredibly simple drag-and-drop capability. Users can split an existing PDF file by page number or extract a page or group of pages using the UPDF editor. Split, replace, extract They can even substitute different pages for PDF pages. The UPDF editor's helpful crop tool allows users to crop the visible portion of the PDF. The page's margin can be adjusted, as well as its size.
Annotate PDF: Users may simply annotate their PDF document with a number of incredibly sophisticated features and markup tools with the new UPDF PDF editor. UPDF users can annotate PDF files by adding comments, underlining text, underlining text, bolding text, and adding text boxes and sticky notes. Users can now include up to 100+ different styles of stamps and stickers in their PDF documents. You may even create a unique stamp and put it on any area of the page. Users of the UPDF PDF editor can manually sign or electronically sign PDF files. Even other pages of their document can have the signature moved there. Users can add different forms, such as squares, rectangles, circles, lines, and arrows, to their PDF documents. They are adjustable in terms of their width, fill color, border color, thickness, and opacity. Users of UPDF can share their PDF files with others by including a link in the document. Without having to download additional PDF software, the recipient can print, edit, view, and copy the PDF document.
Convert PDF: Users can convert their PDF files into editable file formats with just a few mouse clicks. Users can now convert their PDF files into the most widely used office file formats, including Word, Excel, PowerPoint, and CSV. UPDF users may now convert their PDF files to editable image file types like JPEG, PNG, BMP, GIF, and TIFF. Users can convert their PDF files into plain text and rich text formats that can be edited without restriction using text editors. For the purpose of building online interfaces, users can convert their PDF files into fully editable HTML and XML forms. Users can use this tool to turn their PDF files into PDF/A ISO files, which are superior at archiving and packing data. Users can convert their PDF files with an OCR converter using the UPDF option "Convert to editable OCR format." Users can search and edit their PDF files by scanning them with OCR.
OCR PDF: Users can scan their PDF files and transform them using OCR technology with UPDF's robust and effective OCR tool. Users of UPDF can scan PDF files and transform them into one of three layout formats. Both the text and the photos are editable and are on the same layer. Images have text above them as well as underneath them. Users can create image-only PDF files by using the potent MRC-based image compression method. With this function, the PDF is converted into an unsearchable, uneditable format. UPDF's support for more than 38 languages is one of its main selling points. Users can edit bilingual documents and 38 different languages, including Italian, German, French, and many others.