Format of Trial Balance
Trial balance is a statement which shows debit balances and credit balances of all accounts in the ledger. Since, every debit should have a equivalent credit as per the rules of double entry system, the total of the debit balances and credit balances should tally. In case, there is dissimilarity, one has to check the accuracy of the balances brought forward from the particular accounts. Trial balance can be prepared in any date provided accounts are balanced.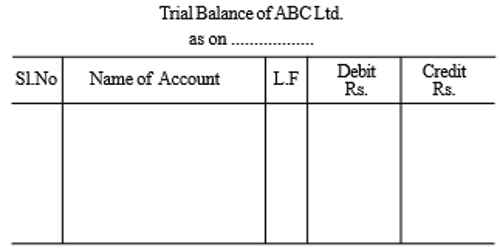 Key to preparing a trial balance is making sure that all the account balances are listed under the correct column. The appropriate columns are as follows:
Assets = Debit balance
Liabilities = Credit balance
Expenses = Debit Balance
Equity = Credit balance
Revenue = Credit balance
Points to be noted: An adjusted trial balance is formatted exactly like an unadjusted trial balance. Three columns are used to display the account names, debits, and credits with the debit balances listed in the left column and the credit balances are listed on the right.
Date on which trial balance is prepared should be mentioned at the top.
Name of Account column contains the list of all ledger accounts.
Ledger folio of the respective account is entered in the next column.
In the debit column, debit balance of the respective account is entered.
Credit balance of the respective account is written in the credit column.
The last two columns are totaled at the end.