Additive manufacturing or 3D printing allows designers and engineers to create complex layer-by-layer geometries and manufacture high-quality, high-performance products. It requires on-site processing of goods, which means decreased production time, cost savings, and a favorable effect on the environment due to reduced delivery.
The new Desktop Metal machine, an expert in mass production and turnkey additive manufacturing solutions, is designed to make additive manufacturing much more appealing by allowing 3D printing of complicated metal parts in an office setting in a simple two-step procedure that avoids the process of solvent debinding.
Office-friendly metal additive manufacturing systems are on the rise. Next-Generation technology further simplifies metal 3D printing for low volume production with a breakthrough, two-step process.
Building on Success
Desktop Metal announced the introduction of Studio System 2, a streamlined, office-friendly 3D metal printing solution that provides consumers the fastest way to print low-volume metal parts for pre-production and end-use applications. Studio Device 2 is a streamlined, office-friendly 3D metal printing technology that uses the patented Bound Metal Deposition (BMD) technology of Desktop Metal. This powder metallurgy-based method swaps loose powders and lasers commonly associated with metal 3D printing with bound metal rods to form parts layer by layer.
The new system maintains all the essential functionality of the original Studio system, but its upgrade aims to make low-volume metal component 3D printing much faster, more efficient, and more usable for pre-production and end-use applications. As additive manufacturing advances worldwide, Desktop Metal continues to push technologies that allow technology to compete more effectively with traditional manufacturing processes.
Ric Fulop, CEO, and co-founder of Desktop Metal
"Our next-generation Studio System 2 takes the best features of the original Studio System and significantly improves upon them, delivering higher quality end-use metal parts through a more streamlined and accessible process, and within an even smaller footprint," Fulop adds.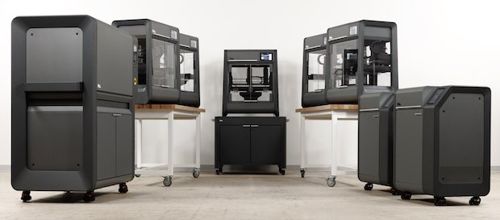 Additional Functionality
The next-generation Studio System 2 retains all the critical features of the original Studio system while delivering advancements that make metal 3D metal printing even easier, more reliable and more accessible. The most significant advance is probably the two-step process that eliminates the use of solvents with all-new material formulations, allowing the parts to be moved directly from the printer to the furnace. Desktop Metal claims the "breakthrough" resulted in a "nearly hands-free process that also reduces consumable use and overall system footprint."
The new system also includes new print profiles and an all-new content system that minimizes component checking and error by allowing even shrinkage during sintering. It also improves partial performance across a larger spectrum of dynamic geometries. In addition, the heated chamber of the printer and the modern printing profiles give superior component size, precision and excellent surface finish straight out of the furnace.
Studio System 2 is initially launched with 316L stainless steel, a general purpose material of outstanding corrosion resistance used in a variety of commercial applications including manifolds, nozzles, brackets as well as latches and jewelry. A broad variety of other products that can be used in the revised, two-step process are in active research and production, and new launches are planned during 2021.
The system would be backward compliant with the use of a debinder, which ensures that all products formerly supplied by the 2017 Studio system will be used, including 17-4H stainless steel, 4140 low alloy steel, H13 tool steel and copper.
Controlling Fabrication
The Fabricate Software is overseeing the operation. This technology completely automates component production in order to create high-quality end-use pieces comparable to those created by casting. It features modern, default print profiles that ease groundwork while enabling access to more than 90 custom print settings. It also provides separable support systems with strategic breaks to avoid trapping during post-processing, while completely automating thermal bonding and sintering cycles.