According to those familiar with the decision, Goldman Sachs CEO David Solomon has chosen to quit DJing at high-profile events in response to accusations that his pastime was a distraction from his work running the Wall Street giant.
What began as a colorful side enterprise to soften Solomon's public image became a lightning rod for inside Goldman criticism from bankers dissatisfied with strategic missteps and lesser pay.
According to the sources, Solomon, 61, decided to stop DJing approximately a year ago since it drew unwanted media attention.
Solomon's most recent major performance was in July 2022 at Lollapalooza, a four-day music festival in Chicago.
Goldman spokesman Tony Fratto responded to a request for comment, saying, "This is not news." David hasn't publicly DJed an event in well over a year, as we've already established.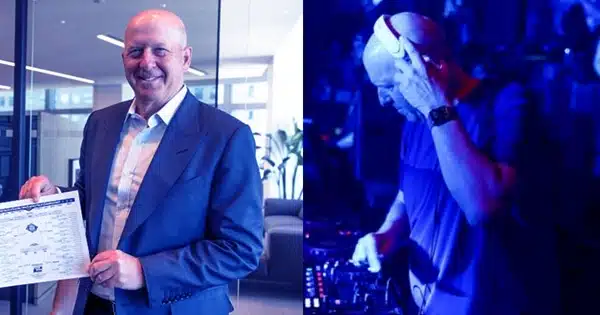 "Music was not a detriment to David's work." "The attention from the media became a distraction," Fratto remarked.
The Financial Times earlier reported that Solomon's DJing drew the attention of Goldman's board of directors. Notably, some questioned his decision to perform at Tomorrowland, a Belgian music festival notorious for widespread drug use, in 2019.
Solomon also apologized to Goldman's board of directors in 2020 after DJing at a 2020 event in New York's Hamptons resort area that was criticized for breaking social distance guidelines during the Covid-19 outbreak.
Solomon was appointed CEO in 2018 and has worked to diversify Goldman's business away from investment banking and trading, expanding into less risky areas such as asset and wealth management.
However, the last year or two has been the most difficult for Goldman since Solomon took control, with profitability falling, a number of high-profile exits, and a series of news articles questioning his management of the bank.
Goldman reported its lowest quarterly profit in three years in the second quarter, as a costly retreat from consumer banking was compounded by an industry-wide slowdown in transactions and trading. On Tuesday, Goldman Sachs will disclose third-quarter earnings.
Solomon became interested in DJing, an uncommon activity for Wall Street, more than a decade ago while working on a financing arrangement for a Las Vegas casino. He has stated that the proceeds from his concerts have gone to a charity that fights addiction.
He began performing under the stage name DJ-D Sol, which became an important aspect of his public identity.
In a guest appearance in a 2020 episode of the US TV show Billions, fictitious hedge fund giant Bobby Axelrod, represented by actor Damian Lewis, referred to Solomon as DJ-D Sol. Solomon then adopted the stage name, David Solomon.
While few colleagues mentioned Solomon's habit before he became CEO, his decision to continue it after taking over the bank was contentious for several employees, who believed it drew unwanted attention. This was due in part to the extremely prominent nature of the accompanying performances, Spotify playlists, and Instagram posts.