Organic solar cells are less expensive to manufacture and more flexible than crystalline silicon counterparts, but they do not provide the same level of efficiency or stability. Researchers demonstrated that luminescent acceptor molecules can be used to increase efficiency.
A small guest molecule in the right place enables the production of energy-efficient organic solar cells using environmentally friendly solvents. A record efficiency of more than 17% is demonstrated. Furthermore, larger-area solar cells can be manufactured. "This is a significant step toward large-scale industrial manufacture of efficient and stable organic solar cells," says Feng Gao, professor at Linköping University's Department of Physics, Chemistry, and Biology (IFM). The findings were published in Nature Energy.
Organic solar cell development is accelerating, and the maximum energy efficiency achieved by laboratory-produced solar cells is now more than 18%. The energy efficiency of solar cells measures how much of the energy in sunlight is converted to useful energy. Organic solar cells are thought to have an efficiency limit of around 24 percent.
Organic photovoltaics have achieved efficiencies close to 11%, but efficiency constraints and long-term reliability remain significant barriers. OPV cells, unlike most inorganic solar cells, use molecular or polymeric absorbers, resulting in a localized exciton.
Our findings pave the way for the production of organic solar cells at larger scales for outdoor use. This is a significant step toward large-scale industrial manufacture of efficient and stable organic solar cells.

Professor Feng Gao
One challenge is to create organic solar cells that are stable enough to last ten years or more. Another issue is that the most energy is obtained in solar cells manufactured in solutions containing toxic solvents with a low boiling point. Because of the low boiling point, the solution evaporates slightly too quickly during the manufacturing process. The use of more environmentally friendly solvents with higher boiling points immediately reduces energy efficiency. This is a conundrum that researchers from all over the world are attempting to solve.
These issues have now been resolved as part of a collaborative project led by researchers from Linköping University in Sweden and Soochow University in China. They were able to create a solar cell with an energy efficiency of more than 17% by using a solution with a high boiling point and no toxic ingredients. Furthermore, the green-solvent processed solar module with an area of 36 cm2 has a power conversion efficiency of more than 14%. This is the highest reported efficiency for organic solar cell modules with an active area greater than 20 cm2. Both of these breakthroughs are critical for organic solar cell technology to achieve commercial success on a large scale.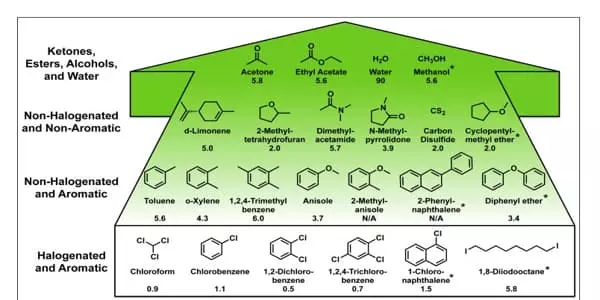 "Our findings pave the way for the production of organic solar cells at larger scales for outdoor use," says postdoc Rui Zhang, who works with Professor Feng Gao in Linköping University's Electronic and Photonic Materials Division.
Organic solar cells' performance has steadily improved. When photons from sunlight are absorbed by an organic semiconducting donor, a "excited state" is formed. Electrons jump to a higher energy level, creating holes at the lower energy level, which they are still drawn to. The electrons are not completely liberated, and no photocurrent is generated. The researchers carried out experiments in which they added various acceptor materials, which accept electrons and allow them to become free, resulting in a photocurrent.
Y6, a new acceptor material developed by Chinese researchers a few years ago, can deliver high efficiency for organic solar cells. What the research described in this joint publication has now accomplished is the identification of a guest molecule known as BTO that ensures that Y6 molecules in the solar cell are packed in such a close and stable manner in the green solvents that photocurrent can be generated efficiently. By including BTO, larger areas of solar cells can be manufactured with high efficiency.
"Our strategy leads to clear design rules for optimizing the interaction between organic donors and acceptors in multicomponent blends, meeting critical requirements for future development of organic photovoltaic technology," says Soochow University's Professor Yaowen Li.