Wetlands are the sponges of our uplands, the filters of our farmland, and the drains of our suburbs. It is no coincidence that river valleys and coastal plains with plentiful wetlands have been the subject of human civilizations for more than 6,000 years – and that these wetland environments, with their rich natural resources, have been vital to the growth and sustainability of mankind. Wetland habitats are part of our natural heritage. Many species of plants and animals live their entire life in wetlands. Many others find food in wetlands, use it as breeding or nursery or stop in it to rest during migration.
Wetland ecosystems are part of our natural wealth. Wetlands help to maintain water quality and marsh grasses slow run-off and allow sediments to fall out of suspension.
Australians enjoy their beaches, and now a recent report also indicates the popular attractiveness of other marine properties such as tidal wetlands, nature walks, and conservation areas, including bird and dolphin sanctuaries. In one of the first studies of its kind in Australia, in the run-up to World Wetlands Day (2 February), environmental and marine ecology experts at Flinders University conducted an Adelaide-based study of how people react to and rate the qualities of Adelaide's northern metropolitan coastal wetlands.
Increasing awareness of the economic benefits of wetlands has resulted in substantial spending in several countries on the conservation and regeneration of damaged or degraded hydrological and biological roles of wetlands. However, sustained action on a global scale would be required if the worse effects of global climate change and increased demand on water supplies are to be stopped.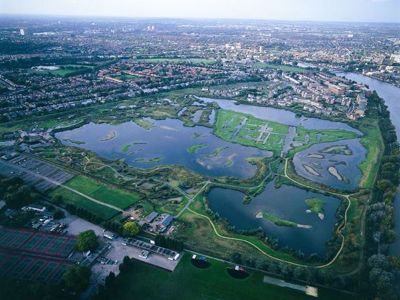 The studies, which have just been published in the journal Environmental Science and Policy, report a deep awareness of the natural characteristics of these coastal environments, with study participants ranking them highly and recognizing their significance for personal well-being, which underpins the need for tighter restrictions on the further creation or deterioration of these valuable community spaces, researchers add.
"People who visited the study region for recreation and work identified a personal bond with the places like Adelaide's Dolphin Sanctuary, the International Bird Sanctuary and St Kilda Mangrove Trail and other coastal national parks and coastal features situated so close to the city – added reasons to take good care of these precious resources," says lead author, Flinders University geographer Associate Professor Beverley Clarke.
The research used the 'Cultural Ecological Services' paradigm to evaluate residents' views of the advantages they received from these wetlands. "Translating the benefits people receive from coastal ecosystems in a way that is usable to policy-makers and environmental managers is important but challenging," says Associate Professor Clarke.
"Here we have been able to record the health and well-being advantages shared by people who experience these sites. As well as simply appreciating the natural environment, it is through their actions that residents have formed an affinity to the coastline.
"People value these places as they become familiar with them," says Associate Professor Clarke, a life member of the Australian Coastal Community, who is currently studying coastal planning and management with an emphasis on policies to promote adaptation and resistance of coastal areas to climate change impacts.
Co-author of the marine biologist, Professor Sabine Dittmann, a pioneer in coastal ecosystem ecology and blue carbon at the Faculty of Science and Engineering at Flinders University, this social importance survey highlights the co-benefits of coastal regeneration.
"Naturalness of coastal wetlands matters most to people and will be an important outcome from restoring tidal wetlands, in addition to carbon sequestration gains," she says. Professor Dittmann is interested in carbon sequestration and salt marsh regeneration projects in Dry Creek, north of Adelaide.
Regardless of their socio-ecological and climatic significance, coastal wetlands around the world are among the most vulnerable of all ecosystems, facing human-induced pressures to alter habitats for agriculture and urbanization, and rising water levels exacerbated by climate change.
Researchers note that building an understanding of the social benefits of preserving these often under-appreciated wetlands can help to encourage the protection-rather than the development-of these endangered ecosystems.
The capacity of wetlands to respond to evolving circumstances and to accelerate transition rates would be critical for people's well-being–and for the water and wildlife, we all rely on – around the world. Wetlands help control flooding and mitigate erosion during hurricanes. Coastal wetlands provide important habitat for recreation, education, and science, while at the same time shielding the mainland from the disruptive force of storm surges.