After Hamas launched an unprecedented air, sea, and land onslaught on Israel on Saturday, the Israeli government declared war on the militant Palestinian organization.
More than 1,200 people have died in Israel as a result of the massive surprise attack, according to a Wednesday update from Lt. Col. Jonathan Conricus, a spokesman for the Israel Defense Forces. It set off a deadly barrage of Israeli bombings on Gaza in retaliation, resulting in at least 1,354 fatalities and 6,049 injuries.
The militants were said to have taken up to 150 hostages with them when they withdrew into Gaza, and they threatened to kill them if airstrikes were launched without warning that targeted Gaza. Israel may be getting ready to launch a ground invasion into Gaza after threatening to exact a severe price on Hamas.
Since the single power plant in the territory ceased operating on Wednesday, the humanitarian catastrophe in Gaza is becoming worse very quickly. The Palestinian Health Ministry has issued a warning that hospitals could run out of fuel, resulting in "catastrophic" circumstances.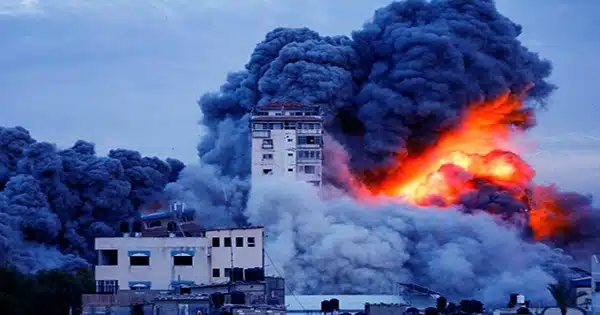 As of Thursday, the number of displaced individuals in Gaza exceeded 330,000.
This is what we currently know.
What happened?
On Saturday morning, militants from Gaza fired thousands of missiles against Israeli communities before breaching the heavily guarded Israeli border fence and infiltrating deep into Israeli territory. There, gunmen from Hamas murdered hundreds of people, including soldiers and civilians, and kidnapped captives, sometimes removing them from their houses.
Fighting raged in the streets for more than two days before Israeli troops were able to retake control. Following the end of hostilities with Hamas, the Israel Defense Forces (IDF) announced on Monday that it had regained control of all Israeli villages along Gaza's southern border.
Following the strike on Saturday, the bodies of "roughly 1,500" Hamas fighters have been found within Israel, according to IDF spokesman Jonathan Conricus on Tuesday.
Since the 1948 Arab-Israeli War, Israel has not engaged its enemies in street conflicts on its own soil, making the attacks exceptional in both scope and strategy. It has also never experienced a terror attack with this intensity that has claimed so many civilian lives. Although Hamas has previously abducted Israelis, it has never previously seized several captives at once, including minors and the elderly.
Operationally dubbed "Al-Aqsa Storm," Hamas claimed responsibility for the attack, citing it as a reaction to Israeli attacks on women, the desecration of Jerusalem's al-Aqsa mosque, and the continued siege of Gaza.
How has Israel responded?
Israel declared war in retaliation to the incident and began "Operation Swords of Iron," attacking locations in Gaza that it believed to be affiliated with Islamic Jihad and Hamas. Israel is "conducting a large-scale strike" against Hamas targets in Gaza as the conflict enters its sixth day, the Israel Defense Forces announced on Thursday.
In order to protect themselves, the IDF ordered Gaza's civilian population to evacuate their home locations right away as Israeli combat operations against Hamas continued. The closure of all crossings between Israel and Gaza might pave the way for an invasion of the territory on foot.
Yoav Gallant, the Israeli minister of defense, declared on Monday that he has given the go-ahead for a "complete siege" of Gaza.
No gasoline, no food, and no electricity. Everything is closed, he stated, adding that there won't be any water deliveries.
Israel Katz, the country's energy minister, declared on Thursday that supplies would not be resumed until Hamas' hostages were released.
Israel declared on Wednesday that a cabinet for war administration and an emergency government had been established.
How did the two sides get here?
Before Israel was founded in 1948, there were tensions between Israelis and Palestinians. Over decades, thousands have died and many more have been injured on both sides.
This year has seen an especially high level of violence. Since the year's beginning, Israeli forces have murdered the greatest number of Palestinians—both terrorists and civilians—in the occupied West Bank. This amount has not been seen in almost 20 years. The same holds true for foreigners and Israelis killed in Palestinian attacks; these individuals were primarily civilians.
After winning the war with Egypt in 1967, Israel evacuated its settlements and forces from Gaza in 2005. After a brief civil war with Fatah, the opposing Palestinian organization and the core of the Palestinian Authority, Hamas took control of the region, which is home to some 2 million Palestinians, in 2007.
Israel and Egypt put a harsh siege on the territory, which is still in effect after Hamas took control. Israel also keeps a naval and air embargo in place on Gaza.
The region has been referred described as a "open-air prison" by Human Rights Watch. Nearly 80% of its people depend on humanitarian aid, and more than half of them experience food insecurity and poverty.
Israel and Hamas have fought multiple conflicts. The last battle between the two, which lasted for 11 days and claimed at least 250 lives in Gaza and 13 in Israel, was in 2021, before to Saturday's operation.
The attack on Saturday happened 50 years and almost to the day after the 1973 war, in which Israel's Arab neighbors unexpectedly attacked the country on October 6, 1973, Yom Kippur, the holiest day in the Jewish calendar.
Describe Hamas: The Muslim Brotherhood, a Sunni Islamist movement that was established in Egypt in the late 1920s, gave rise to Hamas, an Islamist organization with a military arm, which was established in 1987.
The group maintains that Israel is an occupying power that is attempting to free the Palestinian territory, just like the majority of Palestinian factions and political parties. It has demanded Israel's overthrow and views it as an illegitimate state.
In contrast to certain other Palestinian groups, Hamas declined to negotiate with Israel. It was against the 1993 Oslo Accords, a peace agreement between Israel and the Palestine Liberation Organization (PLO) that promised Israel an independent Palestinian state in exchange for the PLO giving up violent resistance. In the Israeli-occupied West Bank, the Accords also formed the Palestinian Authority (PA).
As an alternative to the PA, which has acknowledged Israel and participated in several fruitless peace talks with it, Hamas positions itself. President Mahmoud Abbas is currently in charge of the PA, whose reputation among Palestinians has declined over time.
Over the years, Hamas has declared numerous assaults against Israel and has been labeled as a terrorist group by Israel, the US, and the EU. Israel claims that the group is supported by Iran, its bitter foe.
What takes place next?
Israel has declared war and begun preparing its armed forces for a possible ground operation in Gaza. It has declared that it will hold Hamas accountable for its actions and that it intends to free the Israeli hostages from the region.
Although not on this scale, Israel has dealt with hostage crises in the past. Historically, the demands of terrorists have primarily been for the release of Israeli jail inmates in return for Israelis who have been captured.
Israel released more than two dozen Lebanese and Arab prisoners, including two senior Hezbollah officials, in 2004 in exchange for Elhanan Tannenbaum, an Israeli businessman and army reserve colonel, and the bodies of three IDF soldiers. In 2011, Israel traded 1,027 Palestinians for Israeli soldier Gilad Shalit. In 2008, Israel returned the bodies of approximately 200 Arab militants in exchange for the deaths of two Israeli troops and freed five Palestinian and five Lebanese inmates.
According to Hamas, it has captured at least 100 captives. Any Israeli military operation in Gaza will surely be complicated by their presence there.
The armed wing of the militant group declared on Monday that if Israel targets civilians in Gaza without prior notice, it will start executing civilian hostages and live-streaming the act.
It follows the IDF's announcement that it intended to seize control of the Gaza Strip. According to its spokesperson, Lt. Col. Richard Hecht, the objective is to "control the entire enclave" and "end the Gaza enclave."
When questioned if it had put an end to the Israeli military's pre-bomb warning to civilians, known as the "knock on the roof," In response, Hecht stated that Hamas never "knocked on the roof."
"They did not tap on the roof when they entered and hurled explosives at our ambulances. We are at war. Hecht stated, "The scale is different."
Al Jazeera Arabic was informed on Saturday by senior Hamas member Saleh al-Arouri that Hamas is prepared "for all options, including a war and an escalation on all levels."
Al-Arouri declared, "We are prepared for everything that could go wrong, even a ground invasion, which will be the best way for us to decide how this battle ends."
Could this lead to a wider regional conflict?
The operation by Hamas required extensive planning and was executed in a highly organized and professional manner. There have been many rumors that the organization may have gotten support from overseas, which, if true, may spark the start of a larger regional conflict.
Israel claims that Iran provides Hamas with annual support of about $100 million. According to the US State Department in 2021, the group gets money, equipment, and training from Iran in addition to some funding obtained in the Gulf Arab nations.
Iran is undoubtedly involved, a US official said CNN. "They have supported Hezbollah and Hamas for years."
Although it is too soon to determine whether Iran was directly involved in the attack, a senior Biden administration official stated on Saturday that Washington will be "very closely" monitoring the situation.
After speaking with Ismail Haniyeh, the leader of Hamas, over the phone on Sunday, Iranian President Ebrahim Raisi congratulated the Palestinian people on their "victory" over Israel. But in reference to the Hamas attack, Iran's UN delegation stated on Monday that the Islamic Republic was "not involved in Palestine's response." It said, "It is taken by Palestine itself alone."
Meanwhile, Defense Secretary Lloyd Austin reports that the United States has dispatched a carrier strike group to the eastern Mediterranean Sea. According to an American official who spoke with CNN, the US is also deploying extra fighter jets to the Middle East in order to thwart any possible Iranian aggression or an increase in conflict that extends beyond Israel's borders.
Israel might also have to worry about fresh fronts in the conflict emerging. It is formally at war with Lebanon and Syria and only enjoys peace with Jordan and Egypt, its closest neighbors. Israel has declared that it is prepared for an assault by either of those two nations.
Iran-backed Hezbollah, a militant organization in Lebanon, has welcomed Hamas' attack and stated that it is in communication with Palestinian terrorist groups both "at home and abroad," according to its Al Manar channel. The organization said on Sunday that it was deploying artillery and missiles to target three Israeli locations in the Shebaa Farms neighborhood. Lebanon views the region as being under Israeli occupation. Israel fired back with artillery.
The Israeli Defense Forces (IDF) announced on Monday that it had killed "a number of armed suspects" who had invaded Israel from Lebanon and that soldiers were scouring the region. Najib Mikati, the prime minister-designate of Lebanon, declared on Monday that his nation does not wish to become involved in the fighting.
According to a report received, there may have been a "infiltration from Lebanon into Israeli air space," the IDF claimed on Wednesday.
It was unknown whether gliders, balloons, drones, aircraft, or people were engaged in the intrusion because no additional information was given.