Earlier this year, Microsoft released a new Teams software (Microsoft Teams 2.0) in preview for Windows users. The firm announced today that the new Teams client for Windows and Mac is now generally available.
Microsoft stated at the launch of the new version of the app that the new client is two times faster and consumes 50% less memory than the previous version due to its use of Edge WebView2 rather than Electron. In addition, the business guaranteed a rapid and seamless transition between chats and channels (up to 1.7 times faster).
Furthermore, the new Teams software uses 70% less storage space. In recent months, the firm has incrementally upgraded the platform by introducing capabilities into the original version of the new Teams client.
"Almost all features, including custom line-of-business apps, third-party apps, breakout rooms, 7×7 video, call queues, PSTN calling, contextual search in chats and channels, cross-posting a channel conversation, and more, are now fully feature parity in New Teams." We have concentrated on providing high-quality performance and improving the fundamentals in areas such as stability, security, and IT administration to ensure that new Teams fit your organization's evolving needs."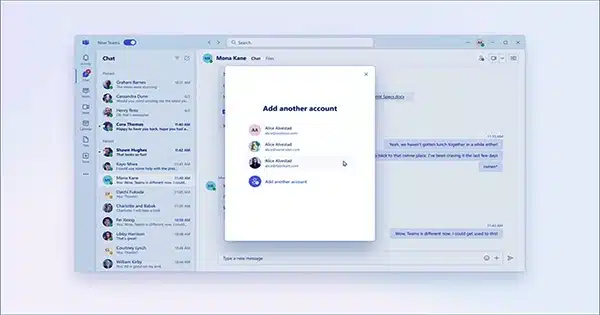 Users will need to migrate to the new Teams client in order to receive access to new features in the future, as the firm will only ship them to the new version of Teams. This includes Copilot in Teams, an AI-powered assistant that helps users summarize meetings, as well as other features.
Microsoft also stated that it has observed "significant performance improvements on Mac" when switching between chats and channels, as well as obtaining vital and relevant information at a glance. "Teams works natively on Mac, giving Mac users an improved app experience," according to the business.
In the coming months, the classic Teams will be automatically transitioned to the new client. Users with Business or Teams Essentials licenses who want to switch to the new Teams app right away can do so by clicking the "Try the new Teams" toggle in the top-left corner of the original Teams app. You can also look at Microsoft's release timetable to see when the new experience will be available.