North American free Trade Agreement (NAFTA)
North American Free Trade Agreement (NAFTA) which includes Canada, Mexico, and the United States of America went into effect in 1994; The United States of America and Canada historically have had various forms of mutual cooperation. That makes NAFTA the world's largest free trade agreement. The gross domestic product of its three members is more than $20 trillion.
They signed the Canada – U.S free trade Agreement effective January 1, 1989, which eliminated all tariffs on bilateral trade by January 1, 1998. In February 1991, Mexico approached the United States of America to establish a free trade agreement. The formal negotiations that began in June 1991 included Canada. The resulting North America Free Trade Agreement became effective on January 1, 1994. The three signatories agreed to remove trade barriers between them.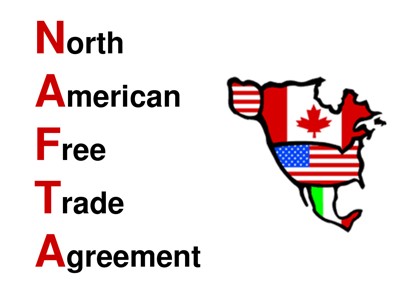 Even though NAFTA is a free trade agreement instead of a customs union or a common market, its cooperation extends far beyond tariff reductions. In fact the WTO classifies NAFTA as a service agreement rather than Just a tree trade agreement. NAFTA covers the following areas:
Market Access-tariff and non tariff barrier, rules of origin, and government procurement.
Trade, rules- Safeguards, Subsidies, counters ailing and antidumping duties, health and safety Standards.
Services provides for the same safe-guards for trade in services that exist for trade in goods.
Investment- establishes investment rules governing minority interest, portfolio investment, real property, and majority owned or controlled investment from the NAFTA countries, in addition NAFTA coverage extends to investments made by any company incorporated in a NAFTA country, regardless of country of origin.
Intellectual property- all three countries pledge to provide adequate and effective protection and enforcement of intellectual property rights, while ensuring, the enforcement measures do not themselves become barriers to legitimate trade.
Dispute settlement provides a dispute settlement process that will be followed desired to keep countries from taking unilateral actions against an offending party.
NAFTA provides the static and dynamic effects of economic integration. It also helps to reduce the tariff and non tariff barriers from the member countries.