Plastic pollution is a major problem for marine ecosystems, including the larvae of sea urchins. When plastic debris enters the ocean, it can be ingested by a variety of marine organisms, including sea urchin larvae. This can lead to injury or death for the larvae, as plastic debris can block their digestive tracts or cause other physical damage.
In addition, plastic pollution can also introduce toxins into the marine environment, which can harm sea urchin larvae and other organisms. There are many efforts underway to reduce plastic pollution and protect marine ecosystems, including efforts to recycle and properly dispose of plastic waste, as well as efforts to reduce the overall production of plastic.
According to new research, sea urchin larvae raised in high levels of plastic pollution die as a result of developmental abnormalities. Scientists exposed fertilized urchin eggs to varying levels of plastic in seawater and compared the effects of newly manufactured PVC pellets (called nurdles) to fragments collected on beaches.
PVC caused significant abnormalities in all three concentrations tested (1%, 5%, and 10% plastic in seawater), and all urchin larvae died. At a 10% concentration, beach-collected fragments also killed the larvae, which developed no proper shape.
Our findings point to clear and specific detrimental effects of marine plastic pollution on the development of sea urchin larvae. We've identified the genes that are harmed by these pollutants, and we know that many animal species rely on the same genes during critical developmental stages.

Dr Jimenez-Guri
Lower concentrations of beach-collected plastic did not kill the embryos, implying that newly manufactured plastic is more dangerous because it still contains high levels of additives that can leach out. Although the concentrations tested in the study are uncommon in the oceans, they could occur after plastic spills or in areas where pollution accumulates, such as the tide line.
The research team, from the Anton Dohrn Zoological Station and National Biodiversity Future Center in Italy, and the University of Exeter in the United Kingdom, previously discovered that plastic additives can harm sea urchin larvae, and the new study expands on this and explains how this harm occurs.
"The larvae affected by plastic pollution showed developmental abnormalities including malformation of the skeleton, neural and immune cells," said Dr. Eva Jimenez-Guri, from the Anton Dohrn Zoological Station and the University of Exeter.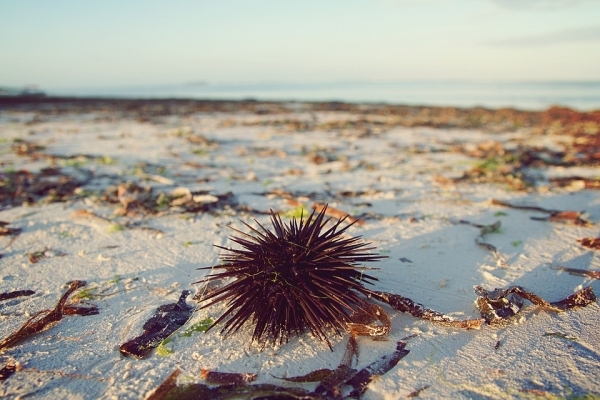 "They also showed 'radialisation' – meaning they lacked proper symmetrical structure, and were instead largely formless and therefore unable to survive. In these larvae, mitochondria (the 'powerhouses' of cells) didn't work properly, and they showed signs of oxidative stress, which damages cells."
The research reveals the genetic processes that cause these abnormalities. The damage in the case of new PVC nurdles was caused by high concentrations of zinc that leached into the water. Larvae exposed to 10% PVC pollution developed an external gut, while 5% and 1% levels also resulted in fatal abnormalities.
The beach-collected samples from Cornwall, UK, did not release high levels of zinc because the majority of the additives they contained had already been released into the sea. However, such particles have been shown to collect a wide range of organic pollutants, and the release of these pollutants explains the anomalies observed in this study.
"Our findings point to clear and specific detrimental effects of marine plastic pollution on the development of sea urchin larvae," said Dr. Jimenez-Guri.
"We've identified the genes that are harmed by these pollutants, and we know that many animal species rely on the same genes during critical developmental stages. So it's possible that plastic pollution causes similar abnormalities in other species, which we're looking into in the next stage of our research. While the levels of pollution assessed in the study are not typical of the ocean, marine plastic pollution is increasing at an alarming rate, potentially having serious consequences for marine life."