Strategy-making Pyramid in a diversified Organization
Strategy means the skill of managing any affair. It is used to describe a pathway along which the organization moves towards its goals or objectives. Actually, it is an action plan for maximizes one's strength against the forces at work in the business environment.
There are various levels of strategies. This can be shown as a pyramid, of strategy. Basically, there are four levels of strategies which are as follows:
The responsibility of corporate-level managers
The responsibility of business-level general managers
The responsibility of heads of the major functional business unit
The responsibility of plant managers, geographic unit managers, and lower-level supervisors.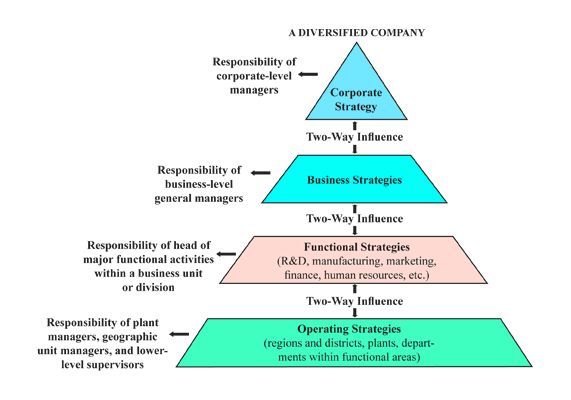 Figure: The strategic-making pyramid of a diversified company
Corporate strategy: Corporate strategy is the overall managerial game plan for a diversified company. It extends companywide. It concerns how a diversified company intends to establish business positions in different industries.
Business level strategy: Business level strategy refers to the managerial game plan for a single business. It concerns the actions and the approaches to producing successful performance in one specific line of business.
Functional Strategy: Functional strategy refers to the managerial game plan for particular functional activity, business process, or key department within a business. For example, a company's marketing strategy represents the managerial game plan for running the marketing part of the business.
Operating strategy: Operating strategy concerns the even narrower strategic initiatives and 'approaches for managing key operating units and for handling daily operating tasks i.e. advertising campaign, material purchasing, inventory control, shipping etc.