Valleys: Erosional Landforms
Valleys start as small and narrow rills; the rills will gradually develop into long and wide gullies; the gullies will further deepen, widen, and lengthen to give rise to valleys. Depending upon dimensions and shape, many types of valleys like a V-shaped valley, gorge, canyon, etc. can be recognized. A gorge is a deep valley with very steep to straight sides (Figure) and a canyon is characterized by steep step-like side slopes (Figure) and may be as deep as a gorge. A gorge is almost equal in width at its top as well as its bottom. In contrast, a canyon is wider at its top than at its bottom. In fact, a canyon is a variant of the gorge.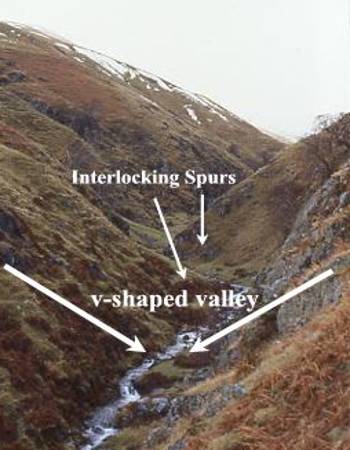 Valley types depend upon the type and structure of rocks in which they form. For example, canyons commonly form in horizontal bedded sedimentary rocks and gorges form in hard rocks. The valleys are steadily widened due to on the side ero­sion with the progression of the period of the cycle of erosion and they become fairly wide with flat valley floor and consistent or rectilinear valley side slopes during a grown-up period or valley expansion and a fluvial cycle of erosion.