The astronauts of SpaceX Crew-2 are learning the hard way that space flight is not as glamorous as science fiction portrays it to be. The SpaceX Crew Dragon spaceship, which is transporting them down to Earth, is experiencing bathroom issues and will render useless. In a prelaunch briefing, NASA's Commercial Crew program manager Steve Stitch noted, "We have other ways to let the crew to do the duties they require" — and by "other means," he meant diapers.
Reuters, CAPE CANAVERAL, Fla., Nov. 1 – NASA reported an unusual, health-related delay in the launch of four astronauts to the International Space Station by SpaceX on Monday, the mission's second postponement in a week, citing an unexplained medical concern with one of the crew. The incident was "not a medical emergency and not linked to COVID-19," according to NASA, although the space agency did not comment on the nature of the issue or identify the astronaut involved.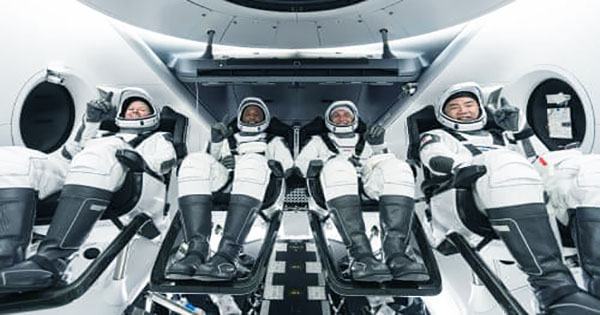 On the 20-hour journey down to Earth, NASA astronauts Megan McArthur and Shane Kimbrough, as well as Japanese Space Agency's (JAXA) Akihiko Hoshide and European Space Agency's (ESA) Thomas Pesquet, will have to wear the "undergarments."
They expected to splash down off the coast of Florida around 10:33 p.m. EDT (02:33 GMT) today. McArthur described the condition as "suboptimal but controllable," the latest setback in a tumultuous six months for the crew, which included a new Russian module mistakenly igniting thrusters and sending the International Space Station spinning out of control.
In a news conference from the International Space Station, McArthur observed, "Spaceflight is full with lots of tiny hurdles." "This is just one more thing we'll have to deal with on our quest. As a result, we're not too concerned." The issue with the toilet design revealed in September on a separate SpaceX capsule, which was utilized by the Inspiration4 private mission, following an inspection by the astronauts, Elon Musk's business, determined that the facility was unfit for the return voyage due to a similar urine leaking issue.
Due to weather issues and an undisclosed medical concern with one of the astronauts, Crew-2 will return before Crew-3 launches. The event expected to take place on Wednesday night, although it might happen later.