Meet Attio, a new CRM designed for users who are already comfortable with modern collaboration tools like Airtable, Notion, and Zapier. The business hopes to provide a platform that can store all of your key customer, supplier, and partner information while also being flexible enough to organize, display, and change data quickly. Point 9 led a $7.7 million seed round for Attio, which also included Balderton Capital and Headline. The round included Passion Capital, which was already an investment in the firm, as well as other angel investors. Mathilde Collin, co-founder, and CEO of Front, Vinay Hiremath, co-founder and CTO of Loom, Shahed Khan, and Paul Forster, co-founder of Indeed, are among the business angels.
That is a big list of investors, which should not come as a surprise given the founder's history. Nicolas Sharp, co-founder, and CEO of Attio, was formerly an associate at Passion Capital before co-founding the company with Alexander Christie. He spent a significant amount of effort improving the firm's transaction flow procedure. Sharp told me, "We think there's something extraordinary occurring in business software in general, and in CRM in particular." He cited Airtable and Notion as sources of inspiration. "It gives clients the freedom to create anything they desire."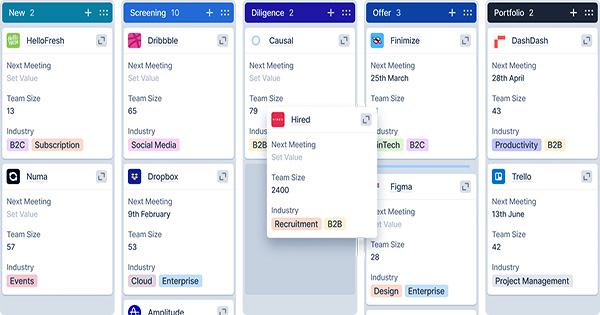 "On the one hand, we have that thing going on, which is fascinating in and of it. We are seeing a paradigm change in the CRM sector with this new approach to selling products. He went on to say, "It's now all about cultivating connections through many channels." To put it another way, CRM software is no longer just for salespeople. Many employees of business a now communicate with various employees of company B. When you do not have a single point of contact, it is difficult to keep track of what is going on.
Attio pulls data from your existing tools. You import your team's contacts when you create your account. Email discussions can also synchronized with the CRM software. You have two options for sharing: metadata simply or subject lines with metadata, you may, of course, synchronize your calendar as well. Attio then automatically enhances your data with additional data from third-party sources like Twitter, LinkedIn, and Facebook. A chronology of your company's recent contacts with a certain contact may view. You may also lookup a firm and see if you know who works there.
When you start putting together collections, it becomes much more exciting. A collection is a list of people who can help you with a certain project. For example, you could make a collection for all of your investors, a collection for your sales funnel, a collection for reporters you know, and so on.
A collection can see in a variety of ways. You may add data using a spreadsheet-like interface with rows and columns, much as in Airtable. You can create new columns with appropriate properties for your collection. However, you may change to kanban view and shift contacts from one column to the next. A calendar view is also available. Filters and sorting criteria are available for each view.
Attio is built in the same way as other software-as-a-service solutions, which means it performs well in groups. In the activity tab, you may see recent activities, set tasks, and add comments to begin working on a project as a group. Around 120 paying clients use the service, including teams from Coca-Cola, Supercell, Saltpay, Causal, and Upfront Ventures. It is worth noting that Attio is not the only "new CRM" attempting to reimagine the software category. Folk, 4Degrees, and Affinity are among the other firms I have lately covered.
The competition environment was different when Sharp began thinking about the product. "At the time, Notion was still in its infancy. People were developing new spreadsheets and note-taking applications. "And no one was applying those concepts to CRM or that area," he explained. Following this place to see how it develops will be fascinating. Customers today have a plethora of choices when it comes to CRM platforms.