Hepatocellular carcinoma (HCC), usually found in patients with cirrhosis of the liver due to alcohol misuse or untreated viral hepatitis, is the most prevalent type of liver cancer worldwide. Osaka, Japan – Hepatocellular carcinoma (HCC), usually found in patients with cirrhosis of the liver due to substance misuse or untreated viral hepatitis, is the most prevalent type of liver cancer worldwide. As such, it is the third most frequent cause of cancer-related mortality and has a notoriously bad prognosis. At present, surgery is the most appropriate therapy for HCC but is only active in 10%-20% of cases where cancer cells have not spread beyond the liver.
Researchers led by Osaka University find that liver cancer cells cause local liver cells to produce a growth factor that enhances tumor growth.
Hepatocellular carcinoma (HCC) and intrahepatic cholangiocarcinoma (ICC) are the most prominent forms of a primary tumor in the liver. While significant advancements have been made in understanding the cellular and molecular pathways underlying liver carcinogenesis, HCC and ICC are still deadly cancers worldwide awaiting novel therapeutic options. In view of the lack of therapeutic options for HCC, a group of researchers led by Osaka University has agreed to concentrate on particular cells and processes that exist in the region around liver tumors in the hope of discovering a novel drug discovery target.
The results of their study were published in a recent issue of Gastroenterology.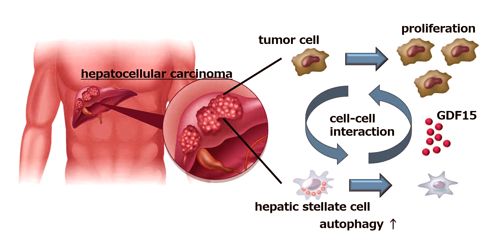 "Hepatic stellate cells (HSCs) are normal liver cells that play a role in the formation of scar tissue in response to liver damage," explains co-author of the study Hayato Hikita. "High levels of activated HSCs have been reported in the tumor microenvironment and are associated with a poor prognosis in HCC patients. However, no one had examined the interaction between HSCs and cancer cells in the liver."
Its strong association with liver fibrosis is a special characteristic of liver cancer. More than 80 percent of hepatocellular carcinomas (HCCs) form in the fibrotic or cirrhotic liver, showing a significant role of liver fibrosis in the premalignant environment (PME) of the liver. Cholangiocarcinoma (CCA), on the other hand, is characterized by heavy desmoplasia that usually arises in response to the tumor, signaling the main role of cancer-associated fibroblasts (CAFs) and fibrosis in the microenvironment of the tumor (TME).
When researchers cultivated liver cancer cells along with HSCs, they found a substantial increase in the number of cancer cells, indicating that HSCs were somehow promoting cancer cell growth. Interestingly, inhibition of autophagy (a cellular mechanism specifically programmed to eliminate defective or undesirable cellular components) in HSCs stopped the spread of cancer cells.
Using a mouse model of liver cancer and a study of gene expression, the researchers made a surprising discovery that the cancer cells actually induced autophagia in HSCs, which, in turn, caused HSCs to secrete a protein called GDF15 that stimulated tumor development.
"When we looked at liver samples from HCC patients with and without tumors, we found that tumor tissue samples had much higher GDF15 levels," says senior author Tetsuo Takehara. "Most importantly though, when we looked at the association between GDF15 expression and clinical outcome, we found that patients with higher GDF15 levels had a lower prognosis than those with low GDF15 expression levels, which really highlighted the role of GDF15 in HCC progression."
Liver cancer is the second leading cause of cancer mortality globally, with more than 700,000 deaths each year. Owing to a wide variety of genomic modifications and insufficient therapeutic effectiveness in targeting tumor cells, a recent focus has been on better understanding and potentially targeting the microenvironment in which liver tumors grow. Building on the results of this research, novel therapies targeting HSC expression of GDF15 are a promising new possibility for the treatment of HCC.