Meaning of Analytical Report
The analytical report refers to the report that contains information along with necessary analysis, explanation, and recommendation. These reports offer both information and analysis, but they also include recommendations. It is a type of business report that uses qualitative and quantitative company data to evaluate as well as analyze a business strategy or procedure while empowering employees to make data-driven decisions based on evidence and analytics. That is, an analytical report not only presents and analyzes information but also interprets the information and makes recommendations.
This report usually deals with complex and critical issues. Some definitions of renowned authors are given below:
In the opinion of Hemstreet and Baty, "Analytical reports attempt to solve problems."
According to Kitty O. Locker, "Reports can be called analytical reports if they interpret data but do not recommend action."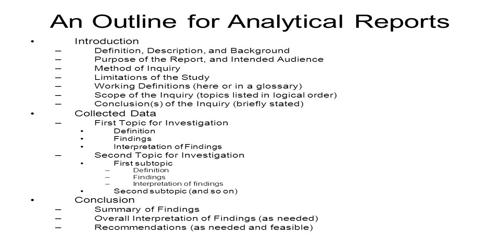 A basic analytical report should include:
A title page – including the main topic or purpose of the report
Table of contents – in a logical or chronological order
A clause – specifying and presenting the methods used for the activity
The main discussion – broken down into organized sections including the heading, the sub-heading, and the body of the discussion.
The conclusions – according to the results and information gathered in the report
The recommendations – given by the employee who created the report
Sections for bibliography or appendices – when necessary.
Here is how you can write an effective analytical report:
Gather the information that you need for your analytical report to be credible.
Identify the resources that you can look into if you need to further list down details which are not identified in your initial information collection.
Assess the information that you have collected.
Properly report the items that you have observed.
Present the information in a way that it will be best used by the people to whom the report is for.
Come up with an appealing and strong recommendation with the help of the conclusions that you have made.
While analytical reporting is based on statistics, historical data and can deliver a predictive analysis of a specific issue, its usage is also spread in analyzing current data in a wide range of industries. Analytical reports offer both information and analysis, but they also include recommendations. Offering recommendations is the biggest difference between informational and analytical reporting.
Benefits:
Quick Access and easy to understand Data
Better Understanding of Operational & Business Activities
Data visualization enables users to view & understand large amounts of information regarding operational and business conditions.
One of the greatest Advantages of data visualization is it brings triable insights to the surface.
Although data visualizations are easier to understand and look more attractive to the audience, it is crucial to achieving a perfect balance between visual appeal and functionality.
Finally, we can conclude that an analytical report presents information along with the necessary analysis, interpretation, and conclusion. Examples of analytical reports are suggestion reports, which make suggestions, recommendations reports, which recommend actions; justification reports which state facts and request approval, feasibility reports, which cheek into the possibility of making changes, etc.