Over the course of March, NASA's curiosity has led to the study of a strange rock formation. Nicknamed Mount Marco after the French Mountains, the outcrop is estimated to be more than 6 meters (about 20 feet) long and the layers in the ancient sedimentary layers have now turned to rock an incredible geological search. Mount Mercou is part of a region of Mount Sharp, which curiosity is slowly climbing, known as the Clay-Bearing Unit. The industrious rover is now moving towards the sulfur carrying unit.
The discovery of the mineral nontronite in Martian soils has given the present area the name of a French territory in the vicinity of the city of Nontron. This month, Curiosity did some exciting science and some good photography. It spreads two images of Mount Marco from two different angles, creating a 3D stereoscopic view as well as allowing it to spread a classic selfies.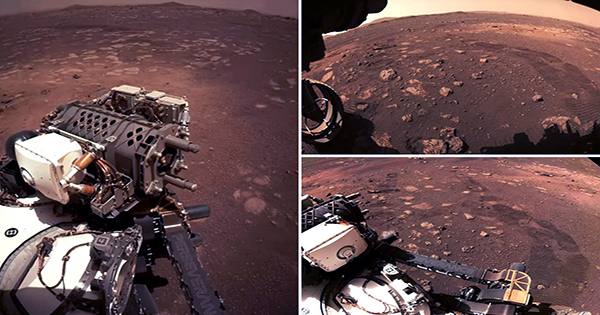 The selfies was actually a combination of images taken by a robotic arm of a rover on March 26, taken by the Hand Lens Imager (MALEE) on Mars, which Curiosity spent 3070 years on Mars. The new panorama of Mars and regions over the past few weeks has also provided incredible footage of some clouds, and we can't wait to see what curiosity finds next.
The National Aeronautics and Space Administration's Curiosity rover took a selfie with a fun rock formation known as the Mont Marquez during the Mars parade. The Mars Rover also captured a pair of panoramic images, providing a three-dimensional view of the landmark's cliff face. Individual Selfie from individual images March 26, 2021 – The 3,070th Martian Day (Soul) of Curiosity's mission was captured by two cameras in Roar. The first is the Mars Hand Lens Imager (MHLI), located on Curiosity's robotic arm. Eleven of the images, contributed by Mastcam, were taken in a March 16 photo-spray. Mont Marco is about 20 feet (6 m) tall. Curiosity spread a sample of the rock, naming the team 'Nontron, NASA said in a statement.
The nomenclature allows the science team to examine and interpret the composition and origin of the rock on the Red Planet. The place where Curiosity took its selfie with Mont Marco is in the middle of Gal Crater's 'Clay-Bearing Unit' – from where the rover is leaving, and Mount Sharpe's 'Sulfate- bearing Unit', where the rover is headed.