According to a new study, the nation's existing and planned marshaling ports, which are critical for building and deploying offshore wind turbines, will be insufficient to meet commitments by 2023 and will fail to meet projected demand through 2050.
As the United States works to shift more of its power generation to renewable resources, Sara Parkison and Willett Kempton of the University of Delaware have co-authored a paper in the journal Energy Policy that sheds light on the infrastructure needed to meet offshore wind power generation targets.
The Biden Administration announced in March 2021 a target goal of deploying 30 gigatonnes of offshore wind energy in the United States by 2030 and 110 gigatonnes by 2050. States along the East Coast have already planned or committed to producing up to 40 gigatonnes of offshore wind power by 2040, enough to power approximately 13 million homes. So, what's holding back the clean energy economy?
According to the UD report, the nation's existing and planned marshaling ports, which are critical assembly areas for building and deploying offshore wind turbines, will be insufficient to meet state and federal commitments by 2023. Furthermore, the available marshaling port area will be insufficient to meet less than half of the projected demand through 2050.
"This is not an impromptu estimate," Parkison, a doctoral candidate in marine science and policy and 2022 Knauss Fellow, explained. "It is a detailed analysis based on insights from industry experts such as vessel operators, port operators, developers, and people who have been doing this for 20 to 30 years. And it demonstrates that the industry is experiencing a severe bottleneck. Simply put, the amount of marshaling area we have is insufficient, and the amount planned will not be sufficient, resulting in a significant shortfall that will have an impact on the growth of the offshore wind industry."
You need ports that are capable of not only marshaling 10- or 12-megawatt turbines, but also moving towards the capacity for 15-, 20-, 25-megawatt turbines that are going to outpace what we currently have.

Sara Parkison
Supporting a growing industry
Parkison explained that to prepare for the growth of offshore wind turbines in the U.S., it's necessary to think about using domestic supplies and infrastructure, rather than solely relying on an international global supply chain. Currently, however, U.S.-based infrastructure is not robust enough to meet demand.
A National Renewable Energy Laboratory report recently echoed the risks of relying on a foreign supply chain as well as the scarcity of U.S. ports capable of marshaling offshore wind turbines, highlighting the major supply chain challenges confronting the US offshore wind industry. The UD study goes a step further, quantifying how many acres per year are required to meet U.S. offshore wind power targets on time, demonstrating the extent of the port shortage.
A marshaling port is a staging area where turbine parts for a structure as tall as the Eiffel Tower can be housed, partially assembled, or readied for installation in the ocean. The area is difficult to locate and develop.
A 2020 market analysis by Parkison, Kempton and nine undergraduate students, completed with funding from UD's Office Of Economic Innovation and Partnerships' Spin In program, found that a 1-gigawatt offshore wind project required 54 acres of marshaling area over 2 years.
Invest, expand and stay smart
Europe has been in the offshore wind energy business for 30 years. Its infrastructure is mature and includes fine-tuned methods for rapidly deploying offshore wind turbines safely, efficiently and economically. For comparison, the existing and planned U.S. marshaling ports comprise less than a third of the area and deployment capacity of Europe's top three most used ports for marshaling.
"Yet, in the United States, we're looking to install twice as much power capacity in half the time that the EU has done in the last 20 years," Parkison said. To have the best chance of success, it will be critical to use near-term alternatives while expanding the marshaling area as much as possible. The United States will have to "make do" with the existing marshaling area by employing alternative methods such as feeder barges located offshore that can ferry equipment from port to installation vessels located at sea – similar to a relay for turbine parts.
The approach, however, is not without its hurdles. "Feeder barges are in limited supply, less safe and take longer to finish installations, causing other problems further down the line," explained Parkison.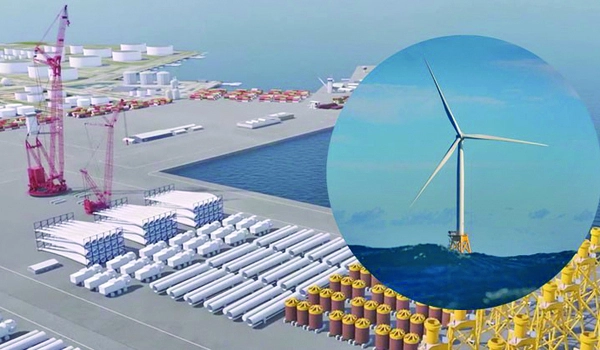 Delays may result in fees and penalties for developers who need to extend port leases beyond agreed-upon dates, as well as delays in "turning on" power, all of which can stymie other projects in the pipeline. It will have implications for meeting other loftier goals, such as the federal targets of 30 gigatonnes by 2030 and 110 gigatonnes by 2050.
"Those targets will not be met at this rate," Parkison said. In the grand scheme of things, it will also mean delays in the nationwide, multi-level effort to mitigate climate change. More turbine assembly in port would reduce reliance on vessels, which are not keeping up with growing turbine sizes. But in-port assembly methods also point to a need for more marshaling room for today and for future growth.
"You need ports that are capable of not only marshaling 10- or 12-megawatt turbines, but also moving towards the capacity for 15-, 20-, 25-megawatt turbines that are going to outpace what we currently have," said Parkison.
Upgrading smaller ports is a start. For example, a 30-acre marshaling port already exists in New England and there is a 60-acre port planned for New Jersey. Considering larger ports will also be necessary. Marshaling ports around 100 acres are a more economically sound and logistically advantageous method of getting turbines out to sea more quickly and safely than some of the alternative methods.
Parkison claims that European developers are willing to travel 200 miles for a large port that allows them to use efficient deployment methods. The hypothetical Delaware port proposed in the 2020 UD market analysis is one example of how 100 acres of marshaling area could be achieved. While some have questioned whether having a 100-acre marshaling port in Delaware and a 60-acre marshaling port across the Delaware Bay in New Jersey is excessive, Parkison disagrees.
"When all existing and planned area is added together, it still amounts to less than half the area that is required," she explained. "As a result, neither marshaling port will take business away from the other; rather, they will both contribute to a massive market need."
Transitioning to a cleaner economy will take commitment, cooperation and collaboration, but the benefits to the nation, and planet, would be many. "Meeting the Biden Administration's targets on time means that we can sooner provide an alternative energy source to displace more of our fossil-fuel-burning resources," Parkison said. "It also means another source of energy security — more energy produced at home that's less reliant on international geopolitics."
Waiting has more costs than just financial or logistical costs. They include things that most people don't think about, such as the social cost of carbon to health, ecosystems, and sea level rise, which is a particular concern in Delaware.
Claire Richer, director of Offshore Wind at the American Clean Power Association, described the report as a useful tool for justifying funding for offshore wind infrastructure expansion to Congress. "The report demonstrates the need for a well-funded Port Infrastructure Development Plan in a budget reconciliation bill like Build Back Better," Richer said.