Monsoon Winds of the Bay of Bengal
The Southwest Monsoon season in India starts with the onset of the Southwest Monsoon winds in June and continues till the middle of September. As a result of the rapid increase of temperature in May over the northwestern plains, the low-pressure conditions over there get further intensified. In summer, moist air is carried northwards from the Indian Ocean over the Indian subcontinent, bringing rains.
The Bay of Bengal branch strikes the coast of Myanmar and part of southeast Bangladesh. But the Arakan Hills along the coast of Myanmar deflect a big portion of this branch towards the Indian subcontinent. The monsoon, therefore, enters West Bengal and Bangladesh from south and southeast instead of from the south-westerly direction. From here, this branch splits into two under the influence of the Himalayas and the thermal low is northwest India. Its one branch moves westward along the Ganga plains reaching as far as the Punjab plains. The other branch moves up the Brahmaputra valley in the north and the northeast, causing widespread rains. Its sub-branch strikes the Garo and Khasi hills of Meghalaya. Mawsynram, located on the crest of Khasi hills, receives the highest average annual rainfall in the world.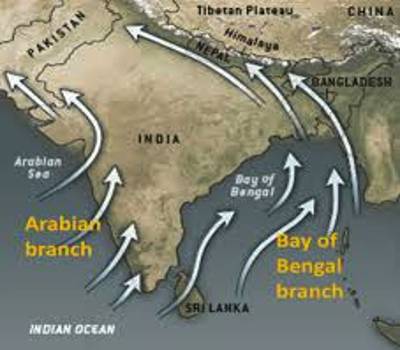 Here it is important to know why the Tamil Nadu coast remains dry during this season. There are two factors responsible for it:
(i) The Tamil Nadu coast is situated parallel to the Bay of Bengal branch of southwest monsoon.
(ii) It lies in the rain shadow area of the Arabian Sea branch of the south-west monsoon.