Rain-bearing Systems and Rainfall Distribution of the Indian Monsoon
There seem to be two rain-bearing systems in India. First, originate in the Bay of Bengal causing rainfall over the plains of north India. Second is the Arabian Sea current of the south-west monsoon which brings rain to the west coast of India. Much of the rainfall along the Western Ghats is orographic as the moist air is obstructed and forced to rise along the Ghats. The intensity of rainfall over the west coast of India is, however, related to two factors:
(1) The offshore meteorological conditions.
(2) The position of the equatorial jet stream along the eastern coast of Africa.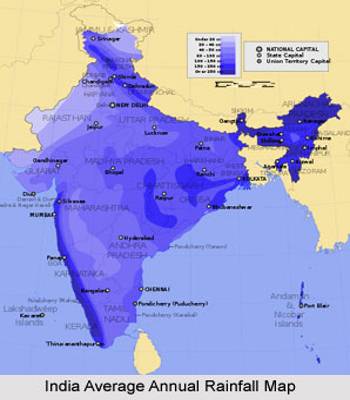 The Indian summer monsoon typically lasts from June-September, with large areas of western and central India receiving more than 90% of their total annual precipitation during the period, and southern and northwestern India receiving 50%-75% of their total annual rainfall. The frequency of the tropical depressions originating from the Bay of Bengal varies from year to year. Their paths over India are mainly determined by the position of ITCZ which is generally termed as the monsoon trough. As the axis of the monsoon trough oscillates, there are fluctuations in the track and direction of these depressions, and the intensity and the amount of rainfall vary from year to year. Overall, monthly totals average 200-300 mm over the country as a whole, with the largest values observed during the heart of the monsoon season in July and August. The rain which comes in spells displays a declining trend from west to cast over the west coast, and from the southeast towards the northwest over the North Indian Plain and the northern part of the Peninsula.