Robotic Process Automation – an ideal technology for automating daily tasks
Robotic Process Automation (RPA) is a technology used for automating daily tasks, similar to artificial intelligence. It is a technology that utilizes pre-defined business logic, established rules and structured data to automate business processes. It is designed to help primarily with office type functions that often require the ability to do several types of tasks in a specific order. The main goal of RPA process is to replace repetitive and boring clerical task performed by humans, with a virtual workforce.  Here, the software is used for automating repetitive tasks such as handling and replying to emails, processing transactions, and handling business data. Software robots built on RPA are able to capture and interpret applications for processing a transaction, manipulating data, triggering responses and communicating with other digital systems. It creates and deploys a software robot with the ability to launch and operate other software.
This technology is used for automating tasks for low-level employees to higher-ranking officials. It is the ideal technology for many labour-intensive knowledge works. RPA can automate more than 40% of daily tasks. It handles repetitive, and rule-based, large volume tasks particularly well. According to McKinsey, more than 60% of all repetitive tasks can be partially automated using RPA. RPA is an application of technology, governed by business logic and structured inputs, aimed at automating business processes. So, this technology is going to threaten a lot of jobs.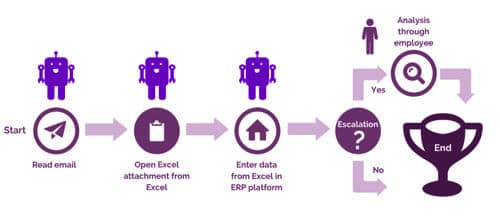 Fig: Robotic Process Automation execute process automatically
On the other hand, this latest technology will also create many job opportunities in the automation sector. It is a perfect match for tasks like applications handling, feeding information to multiple systems, and anything that involves a lot of data intensive work repeatedly entered by specialists. RPA creates and deploys a software robot with the ability to launch and operate other software. It frees humans from monotonous, low-value-added tasks like data entry and makes them available for higher-value tasks that require human creativity, ingenuity, and decision making.
RPA software is designed to reduce the burden of repetitive, simple tasks on employees. RPA robots utilize the user interface to capture data and manipulate applications just like humans do. The most popular vendors that provide RPA tools are Pega Systems, Blue Prism, UiPath, Automation Anywhere, and WorkFusion.
In contrast to other, traditional IT solutions, RPA allows organizations to automate at a fraction of the cost and time previously encountered. Companies such as Accenture, Deloitte, and Capgemini use RPA tools to automate their daily operations. They interpret, trigger responses and communicate with other systems in order to perform on a vast variety of repetitive tasks. So, the demand is huge for professionals skilled in RPA. It can be used to automate workflow, infrastructure, back office process which are labor intensive. The different RPA job roles are as follows:
RPA Developer
RPA Business Analyst
RPA Consultant
RPA Solution Architect
RPA Project Manager
Benefits
RPA provides organizations with the ability to reduce staffing costs and human error.
Automation software enabling you to create your own software robots to automate any business process.
RPA are immediately quantifiable and impact multiple areas, such as error reduction, increased compliance, and audit savings.
RPA represents the convergence of multiple technologies within a consumer-friendly user interface
It helps to ensure that outputs are complete, correct, and consistent between tasks and between human workers.