According to Renewable Energy Magazine, a French company is developing the world's first hydrogen-powered cargo transport vessel, which is set to debut later this year. The vessel, which is owned by the French inland shipowner Compagnie Fluvial de Transport (CFT), will begin transporting goods along Paris's Seine River later this year.
The boat, built by Compagnie Fluvial de Transport (CFT), will be deployed on the Seine River in Paris and will be powered solely by compressed hydrogen produced through electrolysis. The vessel is only intended for inland water routes and is not intended to sail the oceans.
"Demand for more sustainable technologies in inland waterway transport is increasing," CFT director Matthieu Blanc told the magazine. "As part of the Flagships project, we are pleased to be demonstrating the superior features of hydrogen fuel cells in waterborne applications."
The European innovation project Flagships is preparing to deploy the world's first commercial cargo transport vessel operating on hydrogen.
The initial plan for the project was to deploy a hydrogen push-boat in the Lyon area, but as the broader potential for hydrogen in cargo transport became clear, the demo pusher was changed to an inland cargo vessel. The new vessel will be responsible for transporting goods on pallets and in containers along the Seine River.
Big Polluters
Ocean-going cargo ships have revolutionized global trade in many ways over the last 50 years, but they have also become a significant contributor to harmful greenhouse gas emissions. The majority of ships use "bunker fuel," which emits even more carbon dioxide and fine carbon particulates than refined fuel. They are the second-largest contributor to climate change overall.
The Flagship project received just shy of $6 million in funding from the European Union's Horizon 2020 Research and Innovation program in 2018, with the goal of furthering research into hydrogen-fuel cargo transport.
"Flagships is an exciting project for us because it demonstrates how vessels powered by green hydrogen can decarbonize urban rivers," said FCH JU Executive Director Bart Biebuyck. "We can make zero-emissions inland vessels a reality in every European city by translating technological innovations into commercial operations."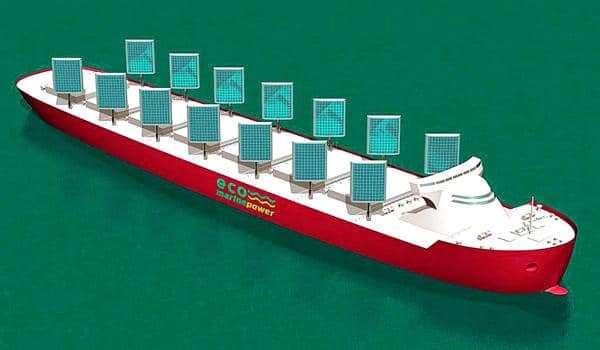 One hydrogen-powered concept vessel is already on the water in Paris, and two more are under construction. Converting much larger seagoing cargo ships to hydrogen power could be a significant logistical challenge. Because fossil fuels are far more energy dense, they take up far less space on ships. Making refueling stops could also significantly increase the cost of operating a cargo ship — but the vessel is still an intriguing concept.
Hydrogen's pros and cons
While hydrogen is regarded as a frontrunner in the race to develop sustainable energy sources and reduce carbon emissions, it is costly to produce, energy-intensive, and emits carbon byproducts.
According to the International Energy Agency, grey hydrogen, made from natural gas or coal, accounts for 98 percent of current hydrogen production and emits approximately 830 million tonnes of CO2 per year – 2 percent of total global greenhouse gas emissions. A small amount of blue hydrogen is also produced – essentially grey hydrogen with its CO2 emissions captured and stored for thousands or tens of thousands of years.
Green hydrogen, as used in the CFT vessel, is an environmentally friendly but more expensive alternative. Electrolysis – an electrical current passing through water – is used to produce it, with wind, solar, or hydroelectric power supplying the necessary electricity.
Pieces in the zero-emission puzzle
The vessel will run on compressed hydrogen generated by electrolysis, allowing for not only zero-emission operations. ABB Marine & Ports will supply the power generation system for Zulu, while Ballard will supply the fuel cells. LMG Marin is in charge of detail design drawings, with hydrogen supplied by suppliers in the Paris area.
The Flagships consortium includes 12 European partners, including two shipowners, Norled and CFT, as well as their support companies Sogestion and Sogestran; maritime OEM and integrator companies ABB Marine & Ports and Westcon Power & Automation; and ship design firm LMG Marin.