Bill of exchange is an unconditional on paper order from one person to another to pay a particular sum of money to a selected individual. When one wants to augment the trade transactions, credits might be allowed and the amounts are received after some time. If the amount involved in the credit transaction is huge, the seller needs safety and verification over the dealings. Here the 'Bill of Exchange' solves the troubles of the seller. Some bills of exchange may say that the money is due on a preset future date, or they may state that payment is due on demand.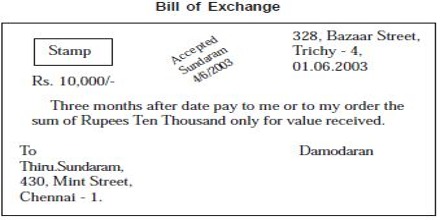 An analysis of the definition given above highlights the following vital features of a bill of exchange.
It is an on paper document.
It is a categorical order.
It is an order to pay a assured sum of money.
It is signed by the drawer.
It bears stamp or it is drafted on a stamp paper.
It is accepted by the acceptor.
The amount is paid to drawer or endorsee.