Functional Organizational Structure of Project Organization
Large or small, every organization should operate with a defined organizational structure. A well thought out and strategic business configuration clarifies reporting relationships and supports good communication resulting in efficient and effective work process flow.
Functional Organizational Structure: Functional organizational structures are the most common. A structure of this type groups individuals by a specific function, performed. Common departments such as human resources, accounting, and purchasing are organized by separating each of these areas and managing them independently of the others. In a functional organization structure, you will report to the functional manager, while in other types of structures, you will report either to the project manager or multiple managers.
For example, managers of different functional areas all report up to one director or vice president who has responsibility for all of the operational areas.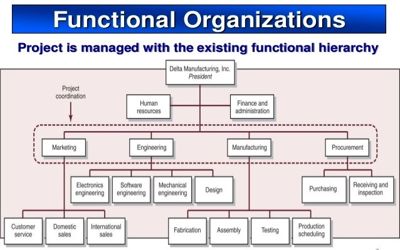 In this kind of organization structure, people are classified according to the job they execute within the organization. The organizational chart for a functional organization structure shows the president, vice president, finance department, sales department, customer service, management, etc.
Advantages:
Staff is managed by a person with experience in their same specialty that can adequately understand and review their work.
Staffers have the opportunity to move up within their functional areas, which gives a reason for them to stay long-term. The company gets the advantage of their expertise and company knowledge over time.
Staffers Work with others in their field, which allows for knowledge sharing and lateral job moves to learn new skills.
The hierarchy is very clear and employees don't have to report to multiple supervisors.
Disadvantages:
Lack of focus on project activities,
Lack of full responsibility,
An emphasis on functional work over project work.
Slow response.
The tendency to sub-optimizes the project.
Employees may feel bored due to the monotonous, repetitive type of work and may lose enthusiasm for the job.