Functions of Oxytocin
Oxytocin is a hormone produced by the hypothalamus and secreted by the pituitary gland. The two main actions of oxytocin in the body are a contraction of the womb (uterus) during childbirth and lactation.
Source of oxytocin
Oxytocin is formed primarily (5/6th) in the paraventricular nuclei and secondarily (1/6th) in the supraoptic nuclei. Once the baby is born, oxytocin promotes lactation by moving the milk into the breast. When the baby sucks at the mother's breast, oxytocin secretion causes the milk to release so the baby can feed.
Chemical structure
It is octapeptide, Molecular weight is about 1000.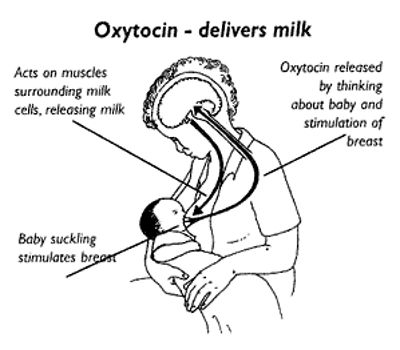 Function:
(A) MILK EJECTION
Suckling of the breast by infant,
Stimulation of touch receptor,
Generation of impulses,
Stimulation of so and PV nuclei,
The release of oxytocin,
Contraction of myoepithelial cells,
The release of milk into the sinuses,
Milk is now expressed.
(B) ON PREGNANT UTERUS:
Oxytocin causes contraction of the smooth muscle of the uterus.
In late pregnancy – the uterus becomes very sensitive to oxytocin. The reason is marked by the number of OTC receptors. The process of labor also stimulates release of OTC from so and PV nuclei. These set positive feedback.
(C) ON NON-PREGNANT UTERUS:
It causes contraction of the smooth muscle of the non-pregnant uterus and facilitates sperm transportation.
(D) ON METABOLISM:
It may produce hyperglycemia at large dose.
(E) EFFECTS ON VASDIFERENCE DURING EJACULATION:
During ejaculation, circulating oxytocin is increased which causes increased contraction of smooth muscles of vas deference propelling sperm towards the urethra.
(F) WATER METABOLISM:
In large dose, it may cause water intoxication due to an antidiuretic effect of oxytocin on the nephron.